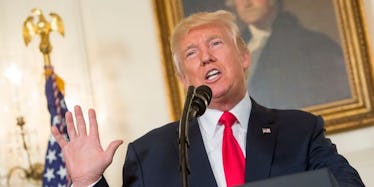 Trump Improvised Charlottesville Response, So Maybe He Should Stick To The Script
Chris Kleponis-Pool/Getty Images
President Donald Trump is in hot water right now over how he's handled the troubling events in Charlottesville, Virginia, that occurred on Aug. 11 and 12. In his initial response to what transpired on Aug. 12, Trump blamed "many sides" for the violence that led to the death of a young woman. The woman, Heather Heyer, was killed when a car plowed into a group of people protesting a white supremacist march that was occurring in Charlottesville. Many were furious Trump didn't explicitly condemn white nationalism and the hate groups who organized the march in his initial reaction.
Apparently, Trump's controversial "many sides" response to Charlottesville was improvised. Two White House officials told Justin Fishel and Katherine Faulders of ABC News the president went off-script and the "many sides" comment was not in his prepared remarks. One of the officials reportedly said, "Those were [Trump's] own words." If this is true, Trump might want to consider avoiding any ad-libbing in the future.
This wouldn't be the first time Trump has spoken off the cuff and gotten himself into trouble. In fact, it happened recently when Trump threatened North Korea with "fire and fury" in relation to its expanding nuclear program. This comment was widely seen as over-the-top and some experts went as far to say Trump's remarks were similar to rhetoric you'd hear from North Korean leaders. According to The New York Times, Trump made this "fire and fury" threat without consulting his advisers, which arguably isn't a good precedent for a president to set in terms of responding to national security crises.
While Trump refused to apologize for making bombastic threats toward North Korea -- and escalated the situation even further with other statements and tweets -- he did give revised remarks on Charlottesville on Aug. 14 in which he condemned racism and white supremacy. Trump apparently wasn't particularly fond of making the second Charlottesville statement, but was urged to do so by his advisers, according to the Associated Press. So, at least he listens to them on some occasions. By the time Trump delivered these comments, however, the damage was already done and many felt it was too little, too late. Trump later complained via a tweet nothing he does seems to satisfy the "Fake News Media."
Perhaps Trump should stop blaming others for his mistakes and learn from them. Along these lines, Trump should arguably stop improvising public remarks when responding to important matters such as a deadly white nationalist rally or the prospect of nuclear war. Just a thought.