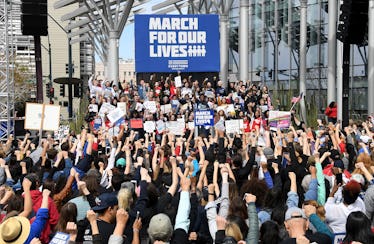 The March For Our Lives Has Millions Of Dollars Left, & It's Going To A Great Cause
Ethan Miller/Getty Images News/Getty Images
The March For Our Lives was without a doubt one of the most important protests that's happened over the past 20 years. I'm sure that when the students who organized the event first created this idea, they didn't expect that it would be as successful as it was. So what's next for the March For Our Lives? Can we expect more protests and activism to come?
Obviously, the fight for gun control in the United States has only just started. The March For Our Lives was just the first major protest out of what I'm sure will be countless other in the years to come. And it looks like fundraising for future events has already gotten a jump start from the fundraising efforts from the March 24 event. According to NPR, millions of dollars are left over from the initial donations for the protest, which will go towards future activism. Deena Katz, a Hollywood producer that got involved with organizing the march, said that "I know we've raised enough that these kids are gonna have several million dollars that they can start their fight after the march." Which is seriously so amazing to hear.
The March For Our Lives Action Fund was created in order to help manage the money coming in for the initial protest fundraising, and according to NPR the leftover money will be used for future gun control protests and lobbying efforts. The initial funds raised by a crowdsourcing campaign were split between paying for the march in Washington, and supporting the victims of the shooting and their families via the Broward Education Foundation, according to the GoFundMe page for the campaign.
While an exact figure wasn't detailed by Katz, we do know that the March For Our Lives cost five million. So if there are "several million" left over in addition to the required five million, I can't even imagine how much the total fundraising amount wound up being.
The "kids" that Katz is referring to are the students that inspired this movement. After a former student opened fire at Marjory Stoneman Douglas High School in Parkland, Florida on Feb 14 and took the lives of 17 victims, the student survivors became extremely vocal activists and began an active discourse on gun laws in this country. According to the BBC, Parkland student Alex Wind along with four of his friends came up with the idea to organize a march on Washington D.C. and founded the #NeverAgain movement. The march was organized alongside a non-profit organization called Everytown For Gun Safety, and countless other marches were organized around the country and around the world in response to these students' passion on this very important issue.
"People are saying that it's not time to talk about gun control. And we can respect that," Stoneman Douglas junior Cameron Kasky told ABC on Feb. 18, "Here's a time. March 24th in every single city. We are going to be marching together as students begging for our lives."
The reaction from the public has been incredible. The main march in D.C. was attended by anywhere from 200,000 to 800,000 protesters. According to Vox, early head counts estimate that around 1.2 million people marched nationwide, which is absolutely huge.
I never thought I'd see this level of protest and activism, but I sure am happy that people have been inspired to mobilize and make their voices heard. Special props are in order for the Stoneman Douglas students, who despite the fact that they are not of legal voting age are still taking charge of their futures. By the time the next presidential election rolls around a good chunk of these students will be able to vote, and I'm excited for what they might be able to accomplish.