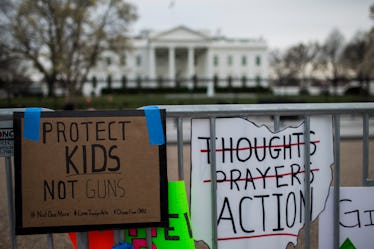 The March For Our Lives Went Beyond Calling For School Safety
Zach Gibson/Getty Images News/Getty Images
Last Saturday, March 24, an estimated at least 200,000 people gathered in Washington D.C. to stand up against gun violence in America in the March For Our Lives. The demonstration was organized by teen survivors of the Feb. 14 shooting at Marjory Stoneman Douglas High School in Parkland, Florida, which resulted in the deaths of 17 students and faculty members. Over 800 other marches were held across the country simultaneously, and people joined the March For Our Lives to call to reform the country's current gun laws and culture.
Ninety-six people die every day from guns in the United States, according to Everytown, and, according to Gun Violence Archive, there were at least 345 mass shootings just last year. Marchers aimed to call attention to this epidemic, they told me during the march in Washington. "I'm here because change is desperately needed, and the only way we can achieve it is by working together," says Lily Tillery, a marcher who traveled across the country for the event.
With the horrific Parkland shooting joining the growing list of other school shootings such as Virginia Tech, Sandy Hook, and Columbine, many people at March For Our Lives held signs calling to make America's schools safe. "I'm here because I'm afraid everyday at school," admits Maddy Gabor, a teacher from Chicago. "I can only imagine what my students feel." She is not alone. "I teach preschool," says Rachel Altman from Atlanta. "No child should ever feel afraid to go to school." Cheers rung loudly from the crowd as a speaker demanded that teachers be armed with resources, not weapons.
College campuses are also calling for safer schools. Juan Gilces-Coronel, who works for Hillel International, a Jewish college student group that often promotes social justice, rallied at March For Our Lives alongside his co-workers and grew up in Coral Springs, a town neighboring Parkland – many of his friends attended Stoneman Douglas. "Many Jewish students on campus feel deeply connected to the issues of gun violence. They see this march as a way for their generation to lead the charge in creating positive social changes," he says. March For Our Lives reminds America that gun violence is not an issue exclusive to any political party, social class, race or religion, but an issue of right and wrong.
Parkland student activists made significant efforts to remind the world that bullets do not discriminate, and that gun violence is an issue outside of school safety. "We recognize that Parkland received more attention because of its affluence," shared survivor Jaclyn Corin during her speech. "But we share this stage today and forever with those communities who have always stared down the barrel of a gun."
"It is normal to see flowers honoring the lives of black and brown youth that have lost their lives to a bullet," Edna Chavez, a 17-year-old student and gun control activist from south Los Angeles said in her speech. "We need to tackle the root causes of the issues we face and come to understanding of how to resolve them."
Fifth-grader Naomi Wadler from Alexandria, Virginia also garnered applause for acknowledging minority youth in her speech. "I am here today to acknowledge and represent the African American girls whose stories don't make the front page of every national newspaper, whose stories don't lead on the evening news," she said in her speech. "I'm here to say never again for those girls, too."
These young speakers' words rung through the streets of D.C. and resonated with marchers. "We're marching for all gun victims, including in cities across the country that experience high levels of gun violence daily, with few paying attention," Rhonda and (ex-NRA member) Tim Paterson tell me. "We hope that everyone stands together and fights the extremist NRA and votes out their bought representatives."
March For Our Lives also showcased the power of youth. "I fully support these kids; they are the future. They deserve to go to school, concerts, theaters, and anywhere else, without the fear of being gunned down," says Sandra Lynch, a retired military member who accompanied her granddaughter and her friends from West Virginia to D.C. "They are bright, articulate and eager to learn what is necessary to change the world. [At the march], they learned about civics and First Amendment rights."
Teens and young adults are not the only youth on the forefront of change. Eleven-year-old Abigail H. tells me, "I hope we can get some regulations passed."
Although the stage has been taken down and Pennsylvania Avenue has cleared, crowds of marchers are returning to their communities inspired and empowered. What's next? Parkland survivor David Hogg encouraged America to bring this power to the polls in his speech. "First-time voters show up 18 percent of the time in midterm elections. Not anymore," Hogg said. "We are going to make this the voting issue. We are going to take this to every election, to every state, and every city. We are going to make sure the best people get in our elections to run, not as politicians, but as Americans."