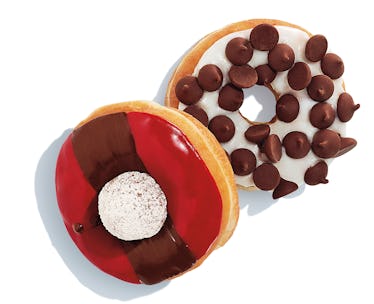 The New Dunkin' Holiday Menu Includes Doughnuts That Are Perfect To Bring To Friendsgiving
Image provided by Dunkin'
There are a few things that get me through the brutal Boston winters: my windproof goose-down parka with a vegan fur-hood, my Beats Pro headphones that conveniently double as earmuffs, and a piping hot seasonal bev — specifically, from my caffeine go-to: Dunkin' (it is Beantown, after all). For most of the winter, that means a large caramel swirl coffee with extra almond milk. But on those frigid days between Thanksgiving and New Years, I'll be partaking in Dunkin's 2018 holiday menu, knowing that I only have about a month to enjoy those festive flavors. Luckily, the lineup is enough to make trudging through the arctic tundra that is my city somewhat tolerable.
Last year, Dunkin' delighted us with such festive treats as the Gingerbread Cookie Donut and Frosted Sugar Cookie Donut. And while those offerings will not be returning this year, it's safe to say you probably won't be missing them, because the 2018 holiday menu has a little something for everyone. In fact, Dunkin' is rolling out two donuts that are perfect to bring to a potluck Friendsgiving feast.
Let's start with the red-frosted Dear Santa Donut, which is topped with chocolate icing as well as a powdered Munchkin donut hole in the center to resemble Saint Nick's belt and buttons. That's right, there's a munchkin… on top of the donut. Look, Oreo Donut, it's been fun, but there's someone else, and they've got even more to offer. Because what's better than one donut? Two, obvi.
Chocolate lovers will no doubt appreciate the HERSHEY'S® KISSES® Donut, which is topped with vanilla frosted and a healthy smattering of the classic candy.
If you're looking to shake up your bagel breakfast, Dunkin' is also introducing a limited-edition cinnamon cream cheese, which lends a delightful sweetness and spice to your carby goodness that definitely kicks things up a notch.
If you prefer something savory in the morning to something sweet, then consider Dunkin's Holiday Spice Bacon Breakfast Sandwich. The croissant sandwich includes egg, cheese, and a double portion of sweet holiday spice bacon (because TBH, you can never have too much bacon, amiright?). This isn't just any bacon, either — for a holiday twist, it's infused with flavors of cinnamon, brown sugar, and nutmeg.
Let's not forget about the beverages — after all, you may need a sweet seasonal drink to power you through those shorter, darker days as well as all that holiday shopping. Personally, I'm pumped about the Cinnamon Sticky Bun Coffee and Latte, which taste like my all-time favorite indulgence — frosting flavor included. Trust me: You won't be nearly as devastated when your beloved pumpkin spice leaves the menu, as this flavor boasts many of the same spicy undertones to keep you warm. If sticky buns aren't your thing (who even are you?), A White Chocolate Coffee and Latte will also be debuting on the holiday menu, and with subtle vanilla flavors, they're a scrumptious seasonal alternative to a mocha.
So, when can you get your paws on these seasonal treats and drinks? The full holiday lineup will be available in Dunkin' stores starting Nov. 19, according to a press release sent to Elite Daily, and available through the end of the year (or until supplies last). But don't fret: Dunkin' has some crave-worthy treats in store for early 2019, so you have something to look forward to after the holidays are over.
Chocolate lovers will no doubt drool over the Lava Cake Donut, which is filled with brownie batter, coated in powdered sugar, and naturally, served warm for the ooey-gooey lava cake effect. (TBH, you had me at brownie batter.) Seeking a healthier option? A protein-packed Power Breakfast Sandwich is also in the works, featuring an egg white omelet mixed with spinach, red and green peppers, and onions, turkey sausage, and cheese on a multigrain round.
Earlier this week, I was able to taste test all of the items on the 2018 holiday menu (#blessed) and it's safe to say I have a couple new go-to's to add to my winter survival kit. BTW — As I write this, the Boston forecast for this evening is snow, sleet, and a "real feel" of 19 degrees. Basically, November 19th can't come soon enough.