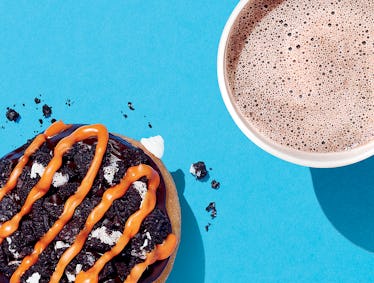 Dunkin' Is Selling A New Oreo Donut For Halloween That's So Good, It's Scary
Dunkin' Donuts
It's officially "spooky season," which means eateries across the nation are dressing their menus up for Halloween. Dunkin' Donuts is no exception, because the company welcomed two seasonal doughnuts onto its shelves on Oct. 3, 2018. You've probably already tried one of them, because it made its debut on the Halloween menu in 2017. However, I'm gonna assume you haven't tried Dunkin' Donuts' Halloween Oreo Donut yet— because it's the company's newest holiday offering. No, I'm not tricking you; this is a real treat that you can purchase as Dunkin' right now.
Before you run to the nearest Dunkin' in pursuit of a Halloween Oreo Donut, you probably want to know what it's made of. For the record, this chocolatey selection doesn't disappoint. According to a press release, Dunkin's new Oreo Donut is filled with vanilla buttercream and topped with chocolate icing. (TBH, it's already giving me major Oreo vibes.) That's not it, though; the Halloween treat is then dipped in Oreo cookie crumbles and drizzled with dark orange icing. Between the chocolate tones and the and orange accent, there's not doubt in my mind that this treat will put you into the spooky spirit.
Not to mention, it sounds delicious. A Dunkin'-Oreo hybrid is exactly what I need right now, and the fact that it's Halloween-themed makes it even better.
That's not the only seasonal doughnut that Dunkin' is offering, though. The company also re-introduced its Spider Donut, which was initially welcomed onto the Halloween menu in 2017. Not only is the Spider Donut one of Dunkin's spookiest offerings, but it also doubles up on the doughnuts. The delicacy is made with an orange-frosted classic doughnut that has a glazed Munchkin sitting in the center. Then, chocolate icing is used to draw spider legs and eyes onto the doughnut. The result is a scary-and-sweet Halloween treat that's perfect for October snacking.
In addition to the Oreo Donut and the Spider Donut, Dunkin' is dressing up its classic doughnut selection in honor of Halloween. According to a press release, the company is using purple and orange icing drizzles and sprinkles to add some holiday pizazz to its classic menu. So if spiders and Oreos aren't your thing, you can join the holiday fun with your favorite go-to doughnut.
Dunkin' is doing way more than dressing up its doughnuts for Halloween, though. The company is also supporting "Community Cups" throughout the month of October, which gives customers the opportunity to donate $1 to the Joy in Childhood Foundation. The foundation — which is supported by Dunkin' and Baskin-Robbins — gives children who are suffering through hunger or sickness opportunities to experience joy in their lives. Customers can donate to the cause at Dunkin' until Oct. 31.
If you decide to donate during your next Dunkin' trip, you'll get a piece of paper that you can choose to sign and hang in the restaurant. The piece of paper also includes a coupon that'll let you take $1 off the purchase of a dozen doughnuts, and you can use it until Dec. 31, 2018. It's a total win-win.
Between Halloween doughnuts and the company's involvement in "Community Cups," I'm sure I'll be a regular customer at Dunkin' in October.