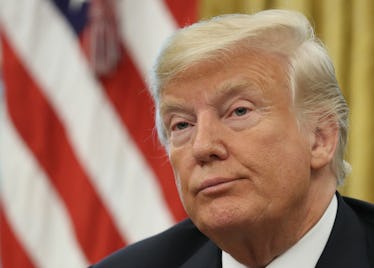 Trump's Tweets After The Jacksonville Shooting Are Missing Something Major
Win McNamee/Getty Images News/Getty Images
It's been more than 24 hours since a mass shooting in Jacksonville, Florida and President Donald Trump has yet to offer any condolences over his favorite social media platform. The Aug. 26 shooting, which took place at approximately 1 p.m. ET at a video game tournament, left two people dead and 11 injured. And Trump's tweets after the Jacksonville shooting are getting some serious pushback online, more for what they didn't say than what they did.
As of 4 p.m. ET Monday, Aug. 27, the president had still not tweeted about the Jacksonville Florida shooting. But that's not to say the president has been offline in that time; to the contrary, he's had an active Twitter finger in the last 24 hours. He's tweeted about a whole host of topics in the time since — just not about the Jacksonville shooting or its victims.
The president did reportedly call Florida Gov. Rick Scott on Sunday to offer his support, AP reports. Elite Daily reached out to the White House for comment regarding the president's Twitter silence on the issue but did not immediately hear back.
Trump's first tweet following the incident appears to be one sent at 6:01 p.m. ET, some four and a half hours later, quoting an article in the conservativeWashington Times criticizing "mainstream media." A few hours later, Trump followed up with a tweet again attacking "the Fake News Media" and touting his popularity. "Over 90% approval rating for your all time favorite (I hope) President within the Republican Party and 52% overall," he wrote.
On Monday, Trump again took to Twitter to share his thoughts on everything from Tiger Woods to his NAFTA deal, but as of writing has continued to stay radio silent about the shooting.
On Twitter, many pointed out that Trump had still not said anything about the shooting while he had used his platform to discuss other topics. Multiple users called out the president for talking about himself over the victims, even in the face of a tragedy.
"A bunch of innocent people got shot in Jacksonville today but our President thinks it's [sic] more important to tweet about his approval rating," tweeted The Left founder Adam Best. "There has never been anyone more self-absorbed than Donald J. Trump."
Some speculated that the president's silence was due to the shooter's ethnicity.
The social media pushback was almost certainly borne not just out of Trump's failure to tweet about Jacksonville, but also in his response to the death of Senator John McCain, who passed away of brain cancer on Saturday, Aug. 25. (Trump did tweet out his condolences for McCain's family shortly after his death on Aug. 25, but waited a full two days to release a formal statement.)
The Sunday shooting adds to an already grim track record for the state in recent years, following the school shooting in Parkland in February and the Pulse nightclub shooting in Orlando in June 2016.
But Trump's stances on gun control haven't wavered much. Shortly after taking office, he revoked an Obama-era restriction requiring firearm background checks for mental illness. Since then, the country has continued to grieve mass shootings: in San Bernardino in April 2017, at a music festival in Las Vegas in October 2017, at a church in Texas in November 2017, and at a high school in Santa Fe in May 2018, to name just a few. The president's public responses to the tragedies in the aftermath have usually included both official statements and tweets.
Following February's tragedy in Parkland, the student-led #NeverAgain movement against gun violence has swept the country, with demonstrations like the March For Our Lives making national headlines. But the Trump administration — and the president himself — have repeatedly come under fire for their responses to the shooting and to the movement at large. In March, Trump walked back the sweeping changes to gun control he had initially proposed, settling on a set of milder provisions. Trump also endured backlash in May when he spoke at the National Rifle Association's (NRA) annual convention, vowing to protect the Second Amendment rights of gun owners.
So perhaps Trump decided just to not say anything this time. Clearly, that's not going over well either.