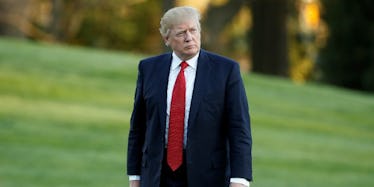 Trump's Silence About The San Bernardino Shooting Is Very, Very Problematic
REUTERS
On April 10, 2017, two adults and an 8-year-old student were killed in a murder-suicide shooting in a special-needs classroom at North Park Elementary School in San Bernardino, California.
A second student was wounded and is in stable condition.
Cedric Anderson entered the classroom and killed his estranged wife Karen Elaine Smith. The two students Jonathan Martinez, who died before he made it to surgery, and the 9-year-old student, who survived, were behind her.
Sadly, this is just another example of gun violence in the United States and as of 7:20 pm PST, our president has yet to make a comment.
President Donald Trump was not silent, however, when San Bernardino saw violence in 2015.
On December 2, 2015, 14 people were killed when Syed Rizwan Farook and his wife Tashfeen Malik opened fire at a community center.
Following this attack, just hours after the news broke, Trump attacked Hillary Clinton on Twitter over poll numbers. Twenty minutes later, he addressed the shooting.
He would then use this attack to justify his immigration ban, despite Syed Rizwan Farook being born in the United States of America and his wife being a permanent and legal citizen.
Press Secretary Sean Spicer suggested this attack would not have occurred had Trump's ban been in effect, Trump called for a "total and complete shutdown of Muslims entering the United States until our country's representatives can figure out what is going on."
Since this is unconstitutional, instead of a religious ban, Trump focused on seven countries instead as well as halting Syrian refugees' entrance into the country.
California Rep. Pete Aguilar (D) believes Trump exploited the attacks.
Aguilar told The Times,
It's just inaccurate and wrong to use San Bernardino as justification for any of the policies that he's rolled out. There are things that we can work on when it comes to self-radicalization and the use of social media platforms, but none of what the president has proposed would have changed the outcome of San Bernardino and that's frankly quite offensive.
Trump using the 2015 San Bernardino attacks for political gain highlights his silence following this shooting even more.
Trump has used his personal Twitter account to send out two tweets since the shooting the elementary school, one congratulating Justice Neil Gorsuch joining the Supreme Court and one wishing a happy Passover.
@POTUS features much of the same.
In 2013, after a mass shooting at Sandy Hook Elementary School, Barack Obama signed a regulation that would block people with severe mental health problems from buying guns.
Trump quietly signed a law that nullified this regulation in February, 2017.
While more is developing on this story, Cedric Charles Anderson, the man who committed the crimes today, had a criminal history, which included domestic violence.
There are many reasons why people are afraid to leave the person who abuses them -- this includes the fear the person they are leaving will eventually find them and kill them.
In March, President Trump proposed his first official budget.
This budget included an 18 percent cut to the Department of Health and Human Services and a 4 percent cut to the Department of Justice.
These two departments help victims of domestic violence, including the Violence Against Women Act and the Family Violence Prevention and Services Acts. The former funds training for law enforcement, prevention and education while the latter is the main federal funding source for domestic violence shelters.
Politics aside, American citizens deserve to hear a comment from their president following this senseless tragedy.