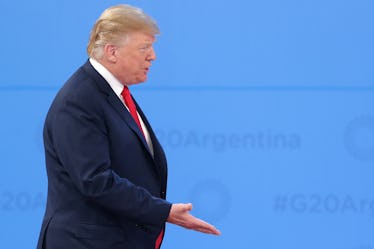 Trump Is Going Off About Michael Cohen's Sentencing Request, So Break Out The Popcorn
Daniel Jayo/Getty Images News/Getty Images
Following the news that President Donald Trump's former personal attorney pleaded guilty for the second time to crimes related to his work for the then-presidential candidate, Michael Cohen is reportedly seeking an extremely lenient sentence, according to a filing submitted by his lawyers over the weekend of Dec. 1. But the president is not taking that request well. In a Monday morning Twitter rant, Donald Trump tweeted about Michael Cohen's sentence with a series of wild claims. Elite Daily reached out to the White House and representatives for Cohen for comment on those claims but did not receive a response at time of publication.
Cohen pleaded guilty in New York on Nov. 29 to one count of making false statements to Congress when he testified in September 2017 about a Trump Tower Moscow project, lying about the timeline in which Trump's legal team and Russia were in contact for making a deal. In his guilty plea, Cohen has signaled he will continue to cooperate with Special Counsel Robert Mueller, who is leading the FBI investigation into possible collusion between the Trump 2016 presidential campaign and Russia.
Following the guilty plea, Cohen's team on Friday evening requested no jail time for their client, reasoning that the effects of the case had already had a monumental impact on him and his family.
But Trump wasn't happy with that prospect, apparently. In a series of tweets on Monday, Trump pushed for a "full and complete sentence" of his former attorney, and claimed that Cohen was lying and that his former lawyer's crimes had nothing to do with him. He wrote,
"Michael Cohen asks judge for no Prison Time."' You mean he can do all of the TERRIBLE, unrelated to Trump, things having to do with fraud, big loans, Taxis, etc., and not serve a long prison term? He makes up stories to get a GREAT & ALREADY reduced deal for himself, and get ... his wife and father-in-law (who has the money?) off Scott Free. He lied for this outcome and should, in my opinion, serve a full and complete sentence.
Elite Daily reached out to the White House for additional comment, but did not immediately hear back.
Of course, Trump's tweets aren't exactly measured and impartial. First, Trump's claim that Cohen's crime is "unrelated to Trump" isn't accurate. In fact, it's expressly because of Trump, as AP's Fact Check points out, that Cohen is in hot water to begin with.
In Cohen's first guilty plea in August, he admitted to a slew of crimes, including two counts of campaign finance violations for making payments for adult film star Stormy Daniels and former Playboy model Karen McDougal to buy their silence on the affairs both women alleged having had with Trump. Trump has denied both the affairs but confirmed the payments took place, with members of his legal team later saying he paid Cohen back. Representatives of Trump did not respond to Elite Daily's request for comment at the time. In that guilty plea, Cohen specifically said that both payments were carried out "in coordination and at the direction of a candidate for federal office," which was reportedly interpreted to mean Trump. Elite Daily reached out repeatedly to the White House at the time of various reports and updates of the affairs but never heard back.
Cohen's latest guilty plea again implied that Trump was the chief motivator in his crime as the lawyer admitted to having lied to Congress, saying in court Thursday that he did so "out of loyalty" to the president. The White House did not return Elite Daily's request for comment and representatives of Cohen declined to comment on the guilty plea at the time.
To Trump's second point about the sentence itself, Cohen was already facing a sentence of 46 to 60 months in prison and a $1 million fine for his earlier counts, ABC News reports. Now, on top of those, his latest guilty plea would correspond with a sentence of up to five years and $200,000 in penalties, but thanks to the defendant's cooperation with federal prosecutors, the special counsel's office has stipulated zero to six months as the estimated range applicable for Cohen's count of making false statements to Congress.
It wouldn't be out of the ordinary for a federal prosecutor to give leniency to Cohen in a case like this, experts suggest. "The decision about Cohen's prison term is up to the judge now (though I appreciate why this causes Trump so much worry)," tweeted Supreme Court lawyer Neal Katyal, referencing Trump's push for a full sentence. "It's common for reduced sentences to be given to cooperators. You could call it very legal & very cool."
As for Trump's other claim that Cohen was lying now in order to get favorable treatment from prosecutors, this doesn't appear to add up, either. It's not the first time Trump has made this claim: Following the news of the plea announcement last week, Trump said in remarks to reporters outside the White House Thursday that Cohen was lying to get a lighter sentence and called his former attorney a "weak person." The White House did not return Elite Daily's request for comment about these remarks.
But Trump's own legal team has already appeared to corroborate Cohen's information. His current attorney Rudy Giuliani told CNN on Nov. 29 that the new timeline Cohen has offered as the true version of events was in line with what Trump had said in his own written answers to the special counsel, which were submitted on Nov. 20. If Giuliani is correct that both timelines are substantively the same, Trump's claim that Cohen is lying, by definition, would imply that Trump is lying, too. The White House did not immediately respond to Elite Daily's request for comment on the subject.
Cohen has yet to receive sentences for either of his guilty pleas, and is scheduled for a sentencing hearing on Dec. 12. But his attorneys note, per ABC News, that, breaking with a traditional cooperation agreement, Cohen will continue to work with Mueller even after the sentencing. But whether Trump's social media campaign against his former attorney will have any impact on the sentencing itself, or on the Mueller investigation at large, that's all up to speculation.