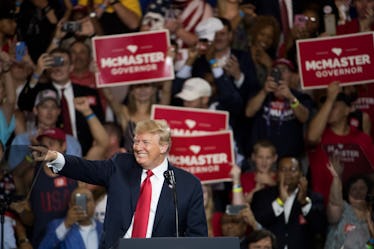 Trump Bragged About His Marriage During A Rally & It Got Really Weird
Sean Rayford/Getty Images News/Getty Images
On Monday, June 25, President Donald Trump went to South Carolina to campaign for a fellow GOP-er facing re-election in this year's midterms. Speaking at a rally ahead of Tuesday's primary election for Republican Governor Henry McMaster, the president covered a lot of ground in what amounted to an oratorial roller coaster ride. Among the standouts from Trump's speech were comments about his wife, and these Trump quotes about Melania from his South Carolina rally are really wild.
Interestingly, while he was busy talking about his wife in front of the audience in South Carolina, he didn't say much about her as a wife, a mother, or more broadly as a first lady, including her campaign aimed at promoting the well-being of children. Rather, he used his airtime to cover other choice topics.
Trump in his speech addressed the rumors swirling around her that have plagued the news cycles for the last several days. These included a growing speculation about where the first lady was (as she'd been out of the public eye for more than three weeks) and massive backlash after she wore a Zara jacket that read, "I don't really care. Do u?" on a trip to visit child migrants who'd been separated from their parents.
Facing the news reports about Melania squarely, the president said,
They had all kinds of projections. They said she got a face lift. No, I would let you know. They couldn't hide that one for long. They said she left me and moved to Virginia. They she left me and moved to New York. ... They only thing they wouldn't say is what happened. And that's OK, she's private. She doesn't want to talk about things. But really unfair stuff.
Speaking generally about his wife, the president didn't miss an opportunity to brag about how highly she's spoken of him. He said that Melania said of him as president, "'There is nobody that can take your place.' ... How smart is that?"
He added, "I don't know if she believes it but ... How smart is she?"
He also didn't miss a chance to shower some praise on the first lady. Or at least, her appearance. Trump said,
She has got a great style. We greeted today the King of Jordan and the Queen of Jordan and it was like a picture. I watched the three of them, the king, the queen and the first lady, I stood back and watched; I didn't want to destroy that picture ... She has done a tremendous job as first lady.
His positive remarks about her focused on how visually presentable she is as a first lady. (To be fair, though, he made a similar comment about French first lady Brigitte Macron upon first meeting her.)
But perhaps the oddest comment Trump made was a brag about how well his marriage with Melania was doing as evidenced by — wait for it — polling. Trump said,
We've never done better than we're doing now. We have never had a time like we have now. We never have. We've never had higher polls than we have now. Even Gallup, who treats me horribly.
For what it's worth, I'm not sure how many past presidents would (at least publicly) discuss their marriage in terms of how well it polls, but there you have it.
It's unclear whether Trump was conflating his personal polling numbers to polls about public opinion around his marriage. So I looked at both options.
Let's assume he's referring to public opinion about his relationship. According to Marist Poll as of Feb. 14, just over a third of surveyed Americans thought Melania should leave her husband. A Quinnipiac Poll published a week later showed that the majority of Americans believed Donald had in fact cheated on his wife, following allegations of extramarital affairs with adult film star Stormy Daniels and with former Playboy model Karen McDougal (in the same weekend, at the same golf event; Trump has denied allegations from both women). Both women have pursued lawsuits seeking to break non-disclosure agreements that involved their alleged affairs with Trump.
As for Trump's personal polling as president, FiveThirtyEight's ongoing composite rating, as of writing, shows a 53 percent disapproval and 41 percent approval rating — a net negative rating not substantively different than his longstanding numbers. According to RealClearPolitics, which also rounds up an aggregate of several polls, Trump's disapproval rating continues to stick fairly close to the 52/41 range it has maintained all year.
Gallup's poll, which Trump mentioned specifically, tells the same story. Its weekly Trump job approval rating, updated June 24, showed disapproval and approval ratings of 55 percent and 41 percent, respectively. So it remains a mystery to what polls Trump was referring, but definitely not Gallup. (And this wouldn't be the first time he's misled on his own approval ratings.)
But despite touting those polls, he also cast doubt on the institution of polling as a whole.
"You know, polls are fake news also. What they do is cull suppression. They put out these horrible calls. ... It should be illegal actually," Trump said.
So make of that what you will. But as for what it says about his relationship with Melania, you have more to go on than just the polling comment, thankfully.