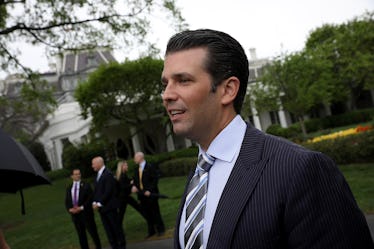 Donald Trump Jr. Is Worth An Unbelievable Amount Of Money
Win McNamee/Getty Images News/Getty Images
Donald Trump Jr. is back in the spotlight on Thursday, March 15 as a report came out from Page Six claiming that his wife of 13 years, Vanessa, filed for divorce. With this spotlight comes increased scrutiny over the man... and his value. As it turns out, Trump Jr.'s net worth is absolutely jaw-dropping. Elite Daily has reached out to the Trump Organization for comment on the reports of the divorce filings, but did not hear back at time of publication.
UPDATE: In a joint statement shared with Elite Daily, the couple confirms that they are divorcing. The statement reads,
After 12 years of marriage, we have decided to go our separate ways. We will always have tremendous respect for each other and our families. We have five beautiful children together and they remain our top priority. We ask for your privacy during this time.
EARLIER: As of Sept. 1, CelebrityNetWorth listed Trump Jr.'s net worth at a startling $300 million. Now, that number differs juuuust slightly from an estimate given by International Business Times in July 2017. According to IBT, Trump Jr. is only worth $150 million. I mean, personally, I'd still take the $150 million. Just sayin'.
Trump Jr.'s value, as you may have assumed, comes in large part thanks to his last name. In terms of work, the 40-year-old works at the Trump Organization. Following the 2016 presidential election, the elder Donald Trump put Trump Jr. and Eric, Jr.'s younger brother, in charge of the company. Trump Jr. currently serves as the Executive Vice President of the Trump Organization. The company's website has this to say about what he does:
Donald J. Trump Jr. is an innovator and leader in today's young business world. As an Executive Vice President at The Trump Organization, Donald Jr. works in tandem with his brother, Eric, to expand the company's real estate, retail, commercial, hotel and golf interests. His extensive real estate development experience, rigorous education and inherent business sense add a level of detail and depth to the management of all current and future Trump projects.
In addition to new project acquisitions, Donald Jr. actively oversees The Trump Organization's extensive property portfolio. He is involved in all aspects of the company's development, from deal evaluation, analysis and pre-development planning to construction, branding, marketing, operations, sales and leasing.
So basically, Trump Jr., along with Eric, oversees what's going on and helps with development and marketing. For instance, last month Trump Jr. traveled to India to meet with real estate clients, address a business conference, and go to some dinners. This trip raised concerns, however, about the ethics of the Trump family continuing work on their brand while their patriarch sits in the White House.
However, the oldest son of the president is more widely known for his, um, prolific work in the media. Trump Jr. is a not uncommon face on Fox News, where he goes to talk politics, and he frequently tweets (and Instagrams) about politics. He generally supports his father's policies... and occasionally uses the social media platform to bash his father's detractors, with mixed results.
According to Page Six, Trump Jr.'s tweeting behavior caused problems in his marriage. The paper reported on March 14 that his "friends are concerned about him," which is linked to his Twitter actions. His questionable Twitter antics in recent days includes liking tweets about conspiracy theories surrounding the survivors of the Marjory Stoneman Douglas High School shooting in Parkland, Florida.
Trump Jr. also frequently includes his and Vanessa's children in his social media posts. Their children are all over his Instagram, and one of his most infamous tweets involved their 3-year-old daughter Chloe. "I'm going to take half of Chloe's candy tonight & give it to some kid who sat at home. It's never to early to teach her about socialism," Trump Jr. tweeted after Halloween in 2017. The joke didn't land well on the internet.
Trump Jr. and Vanessa Haydon met at a fashion show in 2003, when she was a model. The older Donald Trump introduced them. Donald Jr. and Vanessa married in 2005 at Mar-a-Lago. Although divorces can be messy, Trump Jr. has a pretty stable job and a family that seems to take care of each other, which is always a comfort.