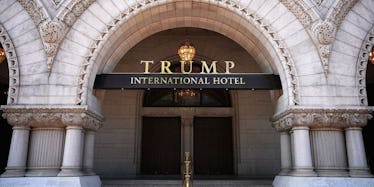 This Is Actually The Wealthiest Person In The Trump Family
Win McNamee / Getty Images
There's been a lot of public fixation on the Trump family's financial situation. Between President Donald Trump's tax returns and his son-in-law's divestment from his real estate ventures, people are wondering how much the Trumps are worth. The answers appear, well, questions, but it remains pretty clear that Donald Trump is the wealthiest member of the family.
In addition to other sources, we used CelebrityNetWorth as a yard stick to measure all of the family members' apples-to-apples. As for how they achieve their estimates, the site states,
The figures are acquired from all publicly available information including salaries, real estate holdings, divorces, record sales, royalties and endorsements. The estimated net worths come from a formula that takes out taxes, manager's fees, agents' fees, and lifestyle.
A spokesperson for CelebrityNetWorth tells Elite Daily that the net worth calculations for some members of the Trump family had not been updated in a few years. Even so, looking at the older figures shows most of the Trumps' net worths has skyrocketed in that time.
The Donald
When the president filed his financial disclosure forms in June 2017, he reported $288 million in income alone. Earlier this year, Forbes reported that Trump in 2017 is worth only $3.5 billion after offloading nearly a billion dollars in donations to his own presidential campaign and lawsuits over Trump University. Subsequently, he had dropped 220 places on the magazine's ranking of richest people in the world. CelebrityNetWorth, as of Sept. 1, put his net worth slightly higher, at $3.7 billion. (It remains to be seen whether another million will go to the Hurricane Harvey victims.)
Melania Trump
FLOTUS, who was a model before marrying Trump, is valued at $50 million, according to CelebrityNetWorth. It's unclear if this includes the massive 15-carat anniversary ring.)
Ivanka and Jared
As a couple, Ivanka Trump and her husband Jared Kushner are worth $740 million, according to a White House financial disclosure reported by the New York Times. An article by CNN suggested this figure may actually be as high as $762 million, including a $25 million art collection.
CelebrityNetWorth puts Ivanka's solo net worth at $300 million. Ms. Trump's personal brand trust, run by Kushner's brother and his wife, is estimated to be worth at least $50 million. Kushner's financial disclosure also suggested his wife has between a $5 million and $25 million stake in the Trump International Hotel in Washington D.C.
Don Jr.
CelebrityNetWorth, as of Sept. 1, values Trump's eldest son Junior at $300 million. Earlier figures cited in an article by Heavy put this figure at $200 million, while an International Business Times article reported it at $150 million.(Did someone forget about a fleet of Lambourghinis?) Per the explanation by CelebrityNetWorth, it appears that Don Jr.'s net worth doubled in the last few years.
Eric
CelebrityNetWorth values Eric's net worth on par with his brother, also coming it at just under a third of a billion. But compare this to the $150 million net worth cited in a Town & Country article, again citing the same celebrity database, and it appears those figures have doubled since being updated. (Again, how does someone's net worth double in three years? Is the Trump International Hotel doing THAT well?)
Tiffany
The half-sister of Ivanka, Eric and Don Jr., Tiffany is worth $10 million, according to CelebrityNetWorth. That should be enough to cover tuition at Georgetown Law School, right?
At the end of the day, all of the Trump family members are well above the millionaire threshold, and really, who needs to keep track when you're that rich? Then again, it would be foolish to assume that, for a family obsessed with their images and the bottom line, it isn't all about money. And it's no surprise that the patriarch-mogul himself, from whence it all came, is the king among kings (at least in terms of wealth).