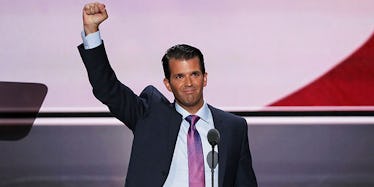 Donald Trump Jr.'s Day Job Is All About The Family Business, Not Politics
Alex Wong/Getty Images
It's no secret why Donald Trump Jr. is in the spotlight right now.
After months and months of reports suggesting the Russian government sought to help his father become president, Trump Jr. himself released information that revealed an apparent willingness to accept the foreign adversary's help.
In other words, Trump Jr.'s own emails imply campaign leaders were enthusiastic about accepting help from Russia to defeat Hillary Clinton in the election.
That makes the president's son the man of the hour in politics, and being the man of the hour means people want to know more. For instance, what exactly does Donald Trump Jr. actually do as a day job?
The answer? Donald Trump Jr. oversees the Trump Organization along with his brother, Eric Trump. The two brothers became the head men in charge after their father left the helm with his inauguration as president.
It had been previously thought that their sister, Ivanka Trump, would be the one to take over the family business in President Trump's absence.
However, it has been Don Jr. and Eric Trump who have continued working in New York and opening all of the Trump organization's newest properties, while their sister has worked in the White House.
Trump Jr.'s official title at the company is executive vice president, according to the Trump organization's official website, which states,
As an Executive Vice President at The Trump Organization, Donald Jr. works in tandem with his brother, Eric, to expand the company's real estate, retail, commercial, hotel and golf interests. His extensive real estate development experience, rigorous education and inherent business sense add a level of detail and depth to the management of all current and future Trump projects.
Trump Jr. had a role as part of his father's campaign, too, as he frequently traveled around the country during the election season. It was in that capacity, as a campaign member, that Trump Jr. accepted a now controversial meeting with a Russian lawyer.
Now, despite the fact that Trump Jr.'s day job has nothing to do with politics, he is sure to remain the center of political debate for the rest of the week.