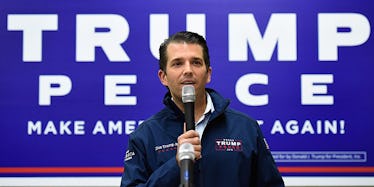 This Is The Clinton Info Trump Jr. Wanted, According To The Russian Lawyer
David Becker/Getty Images
Natalia Veselnitskaya is telling her side of the story.
In an exclusive interview with NBC News, the Russian lawyer alleged what Donald Trump Jr. wanted to know during a now controversial meeting held last June.
Veselnitskaya said,
The question that I was asked was as follows: whether I had any financial records which might prove that the funds used to sponsor the DNC were coming from inappropriate sources.
Veselnitskaya's claim -- that Trump Jr. sought damaging financial information related to Hillary Clinton's campaign -- comes after days of reporting from the New York Times, which revealed details about the two parties' meeting.
Trump Jr. was not only told the lawyer had potentially detrimental info on Clinton, but was also informed via email that the info was obtained through an effort by the Russian government to help then-Republican candidate Donald Trump, according to the reports.
Put together, the NBC interview and the Times' reporting forms a narrative in which Trump Jr. actively sought the aid of a Russian effort to influence the election.
At the time of writing, the White House has not yet issued a denial of Veselnitskaya's claim.
Meanwhile, the mere occurrence of Trump Jr.'s meeting contradicts a vehement denial made by Mike Pence, who stated back in January that team members of the Trump campaign did not meet with Russians last year.
Still, there is a case to be made that Veselnitskaya's claim should be looked at with increased scrutiny, considering her alleged ties to the Russian government.
One could argue, as Commentary magazine's Noah Rothman has, that it'd be in Veselnitskaya's interest to craft her language in a way that fans flames in American politics.
Furthermore, Veselnitskaya denied that she ever worked on behalf of Putin's government, despite the meeting being related to sanctions the United States imposed on Russia.
Still, regardless of the veracity of Veselnitskaya's claim, one thing's for certain. The claim itself means Donald Trump Jr. has even more questions to answer now than he did before.