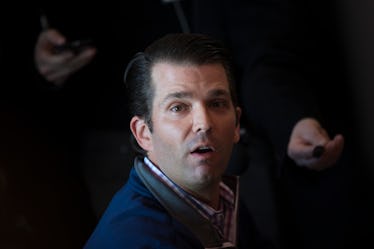 Donald Trump Jr. & His GF Kimberly Guilfoyle Took A Huge Step In Their Relationship
Drew Angerer/Getty Images News/Getty Images
Everyone knows that a relationship isn't really *official* until you post about it on social media. So I guess that means that the president's oldest son and his new girlfriend are the real deal, because Donald Trump Jr. and Kimberly Guilfoyle's Instagram together makes it pretty clear that these two are going strong. There's someone for everybody, I guess.
On Sunday June 24, Guilfoyle, a Fox News host, posted some IGs of herself and Trump Jr. on a fishing trip in Montana over the weekend. The album of 10 photos included a bunch of shots of the two on the state's Stillwater River — including a few of the pair looking awfully cuddled up. She captioned it,
Amazing weekend in Montana with @donaldjtrumpjr here are some shots from our trip to the Stillwater River which we floated for the day on Saturday. 🇺🇸🇺🇸🇺🇸 #flyfishing#fishing#weekend#outdoors#montana
So that's it, I guess. Once you put photos of a date night — or date fishing weekend — online, you're pretty much as official as you're gonna get. I'll be honest, fishing doesn't exactly scream romance to me, but to each their own. If camo hats and flopping aquatic animals are your thing, go for it.
Trump Jr. also marked the couple's official social media debut with a post of his own, tweeting out a selection of the same photos, which he captioned,
Great time floating the Stillwater River yesterday in MT with @kimguilfoyle. It doesn't get prettier than this. What a way to spend a weekend. #fishing#flyfishing#montana#mt#outdoors
Well, at the very least it looks like they're on the same page about their public relationship?
The pair have been rumored to be dating since late April or early May, when they were reportedly spotted together at a party for President Donald Trump's ambassador to Germany, and shortly after were seen grabbing dinner together. So two months before making it public seems about right.
Although due to the circumstances, it also seems like the relationship is moving kind of fast. Though the pair have only been dating two months, it's only been about three and a half months since Trump Jr. announced that he was divorcing his wife of 12 years and mother of his five children, Vanessa Trump. On March 15, the couple released a joint statement announcing the split an declaring their mutual respect. It reads,
After 12 years of marriage, we have decided to go our separate ways. We will always have tremendous respect for each other and our families. We have five beautiful children together and they remain our top priority. We ask for your privacy during this time.
But while the whole "we will always have tremendous respect for each other and our families" is part of the time-honored tradition of lip service about your ex, it's looked like in this case, they really meant it. Trump Jr. and Vanessa have been seen out at public events like the White House Easter Egg Roll with their children, and from all appearances everything is perfectly friendly. In fact, they've been downright supportive of each other — in May, Trump Jr. sent his ex a very sweet message for Mother's Day, calling her "the best mom in the world." And Vanessa has even publicly supported Guilfoyle when she came under fire for her relationship with the eldest Trump son. In mid-June, she defended her ex's right to a private life, tweeting,
The lengths people will go to attack a woman simply because she's dating Don. We've been separated for over 9 months and respect each other's decisions & privacy. We'll focus on raising our great kids.Would be nice if the press did the same rather than obsess over our pvt lives!
In short, it all seems awfully civil. Hey, there are worse things out there. As long as everyone is happy fly fishing, I'd say it's all working out.