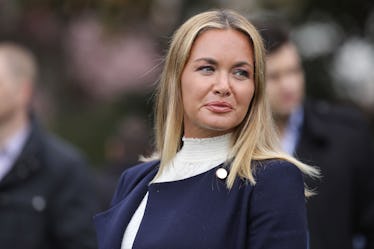 Vanessa Trump's Tweet About Donald Trump Jr's New Relationship Is Kinda Surprising
Chip Somodevilla/Getty Images News/Getty Images
Speaking out on behalf of an ex is a classy move. TBH, I'd never do it, but apparently Vanessa Trump would. Donald Trump Jr. and his soon to be ex-wife Vanessa called it quits back in March, and since then, rumors have been flying that the eldest Trump son has a new boo, along with everyone else's thoughts about this rumored relationship. But Vanessa Trump's tweet about Donald Trump Jr.'s new relationship is kinda surprising, and kudos to her for taking the so-called high road.
After Vanessa and Trump Jr. split, it was reported that Trump Jr. was dating Fox News host Kimberly Guilfoyle, which some people have apparently taken umbrage at, due to Fox News' coverage of the Trump family. On Tuesday, June 12, the New York Daily News published a piece calling for Guilfoyle to be let go because her reported relationship with Trump supposedly means she can't stay neutral while her network covers the Trumps. A couple of days later on June 14, Trump Jr. tweeted an article from Mediaite titled "Absurd Call For Fox News to Fire Kimberly Guilfoyle Over Don Jr. Romance Ignores History of Media-Politics Relations,' and added "Liberal privilege at it's finest," seemingly calling out the Daily News.
Shortly after her ex-husband's tweet, Vanessa retweeted it — basically telling folks that if she has no problem with his new relationship, neither should they. Vanessa wrote,
The lengths people will go to attack a woman simply because she's dating Don. We've been separated for over 9 months and respect each other's decisions & privacy. We'll focus on raising our great kids.Would be nice if the press did the same rather than obsess over our pvt lives!
The reported relationship between Trump Jr. and Guilfoyle was just a rumor... until now. Because I would say that aside from being pretty surprising, Vanessa's tweet pretty much confirms Trump Jr.'s relationship with Guilfoyle. Right? If it was just a rumor, why would she even bother? Way to spill the beans, Vanessa.
Obviously, Vanessa is the only "bigger person" in that whole family. It's really nice of her to speak up for her ex-husband (ignoring the fact that her ex-hubby is Trump Jr.). She doesn't owe him that, especially after rumors that he allegedly had an affair with reality star Aubrey O' Day on the set of Celebrity Apprentice back in 2011 (to clarify, while he was still married to Vanessa). Elite Daily reached out to representatives of both O'Day and Trump Jr for comment about the alleged affair at the time, but did not receive a response.
Back on March 15 Page Six broke the news that Vanessa was filing for divorce from Trump Jr after 12 years of marriage, and the ex-couple released a statement that confirmed the news, saying that they "will always have tremendous respect for each other and our families." A couple of months later, Page Six popped back in with reports that the eldest Trump son had moved on to Guilfoyle. A source told the publication that they are indeed seeing each other and "having a great time." The source said,
Don Jr. and Kimberly are seeing each other, and are having a great time. While he wants to respect the privacy of his family, he is getting divorced, and he enjoys Kimberly's company.
Trump Jr. and Guilfoyle were also spotted at a party for President Donald Trump's new ambassador to Germany, Richard Grenell back in May, according to Page Six.
Whether it's true or not (it's probably true), I think Vanessa is a class act. Whatever went down with Trump Jr. behind closed doors, she remains cordial, and obviously will go above and beyond to protect her family — which includes Trump Jr.