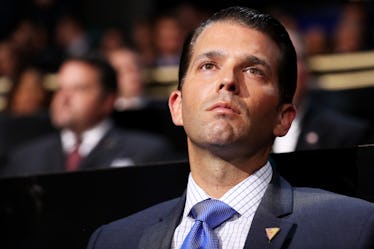 Donald Trump Jr. Is Reportedly Dating Someone New & His Father Probably Approves
John Moore/Getty Images News/Getty Images
If there's one thing the Trump family has absolutely no shortage of, it's scandal. While the vast majority of the scandals surrounding them are centered around their patriarch and our president, Donald Junior's sordid love life is starting to give his father a run for his money. The most recent update in the eldest Trump child's romantic life? Well, it turns out Donald Trump Jr. is dating Kimberly Guilfoyle, a Fox News host.
But let's backtrack for a second here. What's been going on before he started dating Guilfoyle? Well, Donald Trump Jr. was married to Vanessa Trump for 12 years before the couple recently filed for divorce just a few weeks ago. "After 12 years of marriage, we have decided to go our separate ways," the couple told Page Six in a joint statement. "We will always have tremendous respect for each other and our families. We have five beautiful children together and they remain our top priority. We ask for your privacy during this time."
The announcement did not come as much of a shock as their marriage had reportedly been in trouble for a while. One source told Page Six:
They were having problems before they even got married. People were telling her not to marry him before the wedding. She was interviewing divorce lawyers before [Trump's presidency]. No one thought he'd win. He won and she decided to stay until his term is over. But she just couldn't stand it anymore.
Some reports even claim Donald Trump Jr. was unfaithful to his wife during their marriage by having an affair with Aubrey O'Day. A source close to O'Day leaked the news to Us Weekly saying that "Things started up with Aubrey and Don Jr. toward the end of the taping [of their show Celebrity Apprentice]." Elite Daily has reached out to Trump Jr. and O'Day's representatives for comment.
But it seems as though Donald Jr. Has moved on from both his ex wife and his ex lover as he has reportedly started seeing Kimberly Guilfoyle, co-host of Fox's "The Five."
Page Six reports that multiple sources exclusively told them that Trump Junior and Guilfoyle have been dating for a few weeks. "Don Jr. and Kimberly are seeing each other, and are having a great time," one source exclusively told the publication. "While he wants to respect the privacy of his family, he is getting divorced, and he enjoys Kimberly's company."
According to Page Six, the two were reportedly spotted together at a party for President Trump's new ambassador to Germany. After the party, they were spotted again getting dinner at famed New York City restaurant Cipriani.
Guilfoyle hasn't made her love for the Trump family a secret. She regularly retweets the president, Donald Jr. and Ivanka and is constantly backing the family on her show. At one point, Elle reports she was even in talks with the administration to join them as press secretary.
Much like the family she supports, Guilfoyle isn't afraid of a little controversy. Most notably, Elle reports she received heat for a comment she made stating that having young women on juries is "not a good idea." She elaborated on her point by stating, "They're like healthy and hot and running around without a care in the world."
She later went back on her statement to the Huffington Post by noting: "My point is you've been given a powerful blessing in life in this country to be able to vote and to be able to sit on the jury so come equipped."
Donald Jr. isn't the first man of political power Guilfoyle has been romantically involved with. She was formerly married to former San Francisco mayor and current California Lieutenant Governor Gavin Newsom. Page Six reports that she was also briefly seeing Anthony Scaramucci. What a track record.
Check out the "Best of Elite Daily" stream in the Bustle App for more stories just like this!