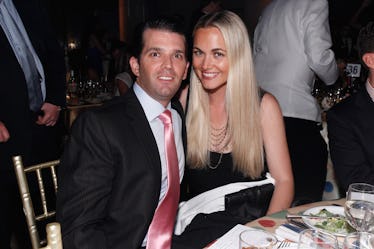 Donald Trump Jr. Wished Vanessa Trump A Happy Mother's Day & I'm So Conflicted
Brian Ach/Getty Images Entertainment/Getty Images
Donald Trump Jr. and Vanessa Trump's split earlier this year was seemingly everything but amicable. Donald Jr. was blasted for allegedly having an affair during their marriage, which subjected his wife to public embarrassment and ridicule. To make matters worse, according to reports, he quickly moved on and is currently dating someone else. And the couple's divorce proceedings are reportedly getting nastier by the day. That's why one part of me feels like Donald Trump Jr.'s Mother's Day tweet about Vanessa Trump is super awkward and just... no. The other half, however, feels like this is actually kinda commendable.
On May 13, Donald Jr. took to his Twitter to wish his soon-to-be ex-wife a Happy Mother's Day, sharing multiple family photos of them with their kids and other family members over the years. The caption of the tweet read:
Happy Mother's day to the best mom in the world. Vanessa enjoy your day, you've certainly earned it dealing with those 5 munchkins and me. #mothersday #mom #momlife
In other circumstances, I would have swooned over these pictures (I mean, look how cute their babies are!!!), but all things considered, the post is really giving me mixed emotions. Take a look at his tweet and decide for yourself.
See what I mean?
But then again, the post shows that he's at least trying to keep things cordial between himself and the mother of his children, and that's always commendable. Back in April, the two even attended the White House's annual Easter Egg Roll and were spotted together, all smiles. Although some speculated that the two were working toward a reconciliation, that seems to be false — because Donald Jr. has reportedly moved on with Fox News host Kimberly Guilfoyle. According to Page Six, the two have been dating for a few weeks.
"Don Jr. and Kimberly are seeing each other, and are having a great time," a source told the publication. "While he wants to respect the privacy of his family, he is getting divorced, and he enjoys Kimberly's company." Elite Daily reached out to representatives of Donald Jr. for comment on the rumored relationship, but did not hear back by the time of publication.
Although Donald Jr.'s divorce proceedings with Trump are recent, there have been indicators lurking for years that the couple's relationship was coming to an end, including his endless Twitter beefs and reported cheapskate nature. But things finally exploded in March when Page Six reported that they were headed for divorce. The very next day, on March 15, the couple released a joint statement confirming that they were, indeed, going their separate ways. The statement read:
After 12 years of marriage, we have decided to go our separate ways. We will always have tremendous respect for each other and our families. We have five beautiful children together and they remain our top priority. We ask for your privacy during this time.
After the divorce announcement, reports emerged claiming that Donald Jr. had allegedly cheated on Trump with Danity Kane singer Aubrey O'Day. Multiple sources told Us Weekly that the alleged affair lasted for three months between 2011 and 2012, after the singer had appeared on Celebrity Apprentice. Elite Daily reached out for comment on the alleged affair, but did not hear back.
"When it started, they were very serious all of a sudden," one source reportedly told the publication. "He told her it was over with his wife, that they were separated and he didn't love her — all of that stuff … Aubrey fell for him hard. She thought they were going to be together for real."
The alleged affair reportedly came to an end after Trump discovered emails between Donald Jr. and O'Day, but considering the fact that she didn't file for divorce until years later, there's really no telling what the very last straw was. Representatives of the Trumps also did not immediately reply to Elite Daily's requests for comment on the cause of their separation.
Best of luck to these two during their divorce proceedings, and kudos to them for trying to keep things cool.
Oh, and BTW: Happy Mother's Day, Vanessa!