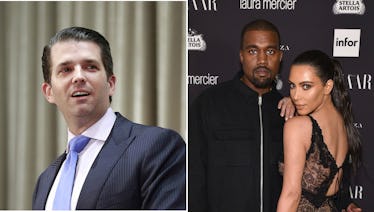 Donald Trump Jr. Tweeted About Kim Kardashian Defending Kanye & It's So Messed Up
Jeff Vinnick/Getty Images // Bryan Bedder/Getty Images for Harper's Bazaar
Donald Trump Jr. definitely takes after his father, in that he loves to stir up some drama on Twitter. So it's maybe fitting that his latest attention-seeking tweet is actually a retweet of the Kween of celebrity drama, Ms. Kim Kardashian West herself. But Donald Trump Jr.'s tweet about Kim Kardashian defending Kanye is still pretty messed up, and just — dude, really?
Kanye West's been making waves on social media for oh, *checks watch* the past six hours or so, talking about how much he likes our 45th president and the connection he feels with him. The April 25 tweet spree — which included some confusing stream-of-consciousness and references to Get Out — had some people worried for the artist, but Kim Kardashian quickly jumped to her husband's defense, calling out the people who were suggesting the weird tweets were indicative of some kind of mental health issue. She wrote,
To the media trying to demonize my husband let me just say this... your commentary on Kanye being erratic & his tweets being disturbing is actually scary. So quick to label him as having mental health issues for just being himself when he has always been expressive is not fair
Which, legit. Tweeters are not armchair psychologists, and does not know what's going on in Kanye's life, so shouldn't be making speculations about his mental health (although a hearty question of WTF is probably not out of bounds).
But as people should know by now, the adult Trump children, particularly eldest son Donald Trump Jr., can sense social media criticism/discussion about their dad like sharks can sense blood in the water. So it's not surprising that Trump Jr. jumped into the conversation with a retweet of Kim K. What was a little surprising was the hashtag he used for the retweet.
Oh yes, that is in fact the "I'm With Her" hashtag, which if you've already forgotten, was a campaign slogan for Donald Trump Sr.'s 2016 presidential campaign opponent, Hillary Clinton. So it's a little weird and nonsensical to be using it here? (Particularly since Kardashian herself actively supported Clinton.)
Then again, we know that Donald Trump Sr. continues to be weirdly obsessed with his former opponent, constantly tweeting about her and accusing her of various supposed nefarious schemes. So I guess it's just thematic for Trump Jr. to be using the tag.
On the other hand, what makes a lot more sense is for Trump Jr., as well as the rest of the Trump family, to be retweeting and promoting Kanye's support for the president. On Instagram, Trump Jr. posted a picture of West's tweet of a MAGA hat with a caption that read,
Kind of a big deal. Seems like a cultural turning point. Nice to see some real influencers push back on the nonsense narrative.
So basically, there's just not a lot of star power standing behind President Donald Trump, and he'll take what he can get? Got it.
The other adult Trump kids were also quick to re-share West's tweets, with both Eric and Ivanka Trump retweeting some of his comments.
Well, if President Trump has Kanye, at least he can be sure he has Kanye. The rapper's tweet spree was pretty explicit in its support of the president, as West shared pics of him wearing a MAGA hat signed by Donald Trump, and expressed the connection he feels with the president, calling him "my brother" and saying "the mob can't make me not love him." West wrote,
You don't have to agree with trump but the mob can't make me not love him. We are both dragon energy. He is my brother. I love everyone. I don't agree with everything anyone does. That's what makes us individuals. And we have the right to independent thought.
Whether the mob wants to make West "not love" Donald Trump or not, at least he can take comfort in the fact that he has the support of the Trump kids. It's something.