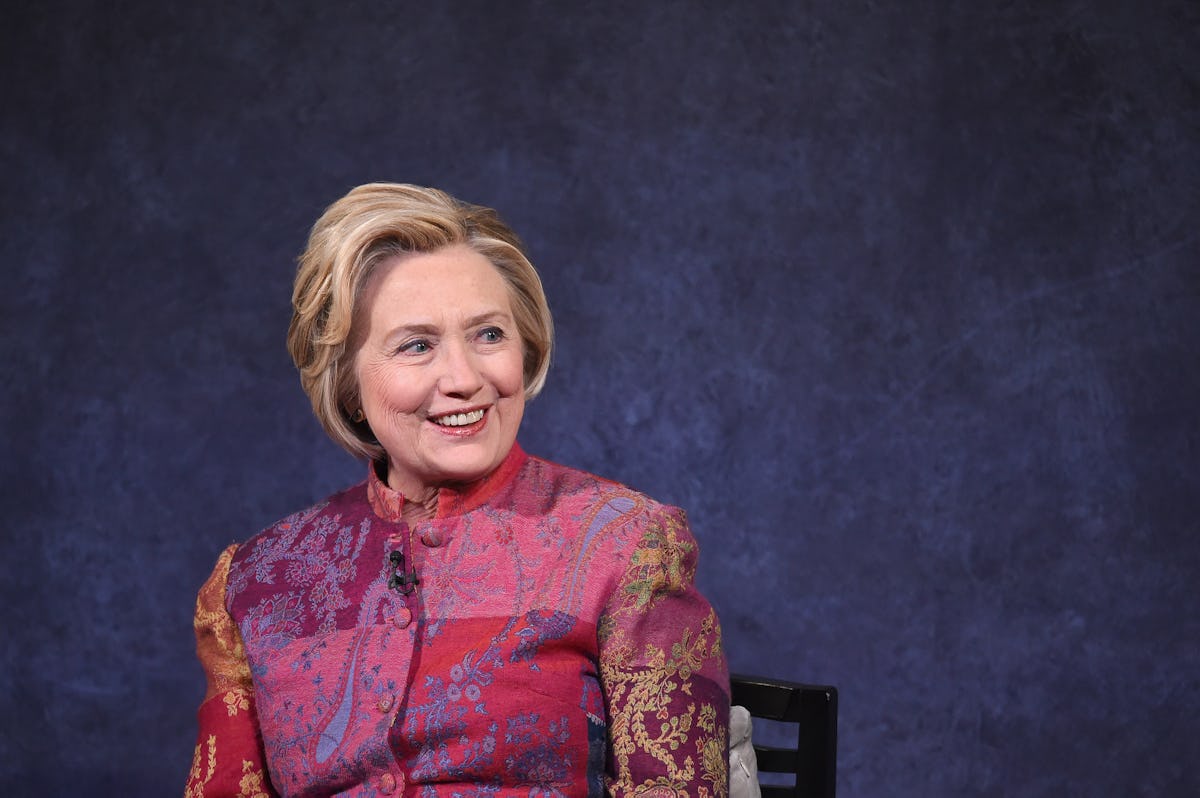 Hillary Clinton Isn't Holding Back About Donald Trump's Tweeting Habit
Jamie McCarthy/Getty Images Entertainment/Getty Images
Has it already been a year since the 2016 election? Well, the contest may be over, but it looks like the tension between the candidates hasn't faded any. On Nov. 18, Hillary Clinton called out Donald Trump's tweets for being "obsessed" with her… and, well, she's not wrong.
At a forum in Little Rock, Arkansas, commemorating the 25th anniversary of her husband Bill Clinton's 1992 presidential election, Clinton took the time to address her own presidential contest — and the fact that despite her opponent's victory, he doesn't seem to quite understand that it's over. "Apparently, you know, my former opponent is obsessed with my speaking out," she said according to Politico. "Apparently there was another, somebody told me, tweet today. Honestly, between tweeting and golfing, how does he get anything done? I don't understand it. Maybe that's the whole point."
OK, OK, it's not perfect shade, because there's really no question of who she's talking about, but I'll let it slide because it's just so spot-on. The tweet she was referring to — this time — was one that President Trump tweeted out early on Saturday morning, reviving his "Crooked Hillary" insult, calling her a loser, and suggesting that Clinton might have better luck if she tried again in three years (in which time… he thinks... she would beat him? Yeah, I don't get it either).
Seriously though, Trump is always tweeting about Clinton, his one-time opponent. Between attempts to deflect attention about Russian election collusion, the constant revisiting of her email scandal, and just a general fixation on the 2016 election, you almost have to wonder whether Trump even knows that he won. And you definitely can't blame Clinton for being all,
What, did he think she was going to quietly fade into obscurity just because she lost an election? I don't think that's exactly Hillary Clinton's style.
In fact, she said it's not. At the forum in Little Rock, she literally came out and said that she was going to continue to be active in the public discourse. "I'm gonna keep speaking out," she said.
And she sure did. At the same event, she called out the Trump administration for everything from withdrawing from the Paris climate accords to the GOP's economic approach, which she roasted as a "fairy-tale." Earlier this week, the Republican-controlled House of Representatives passed a version of a tax bill which, according to analysis, would favor wealthy Americans and businesses, and potentially cut Medicare and funds for student loans, as well as undermine the Affordable Care Act, better known as Obamacare.
"Yeah, we may be cutting Medicare and Medicaid and health care and make it more expensive to go to school and all the stuff that they're trying to do in Washington, but it's all gonna work out," Clinton said sarcastically, per Politico. She called the approach "nonsense."
Clinton also addressed the questions over Russian meddling into the 2016 election, and the role it may have played in her defeat. "[Russia was] weaponizing information, stealing information, providing phony news," she said.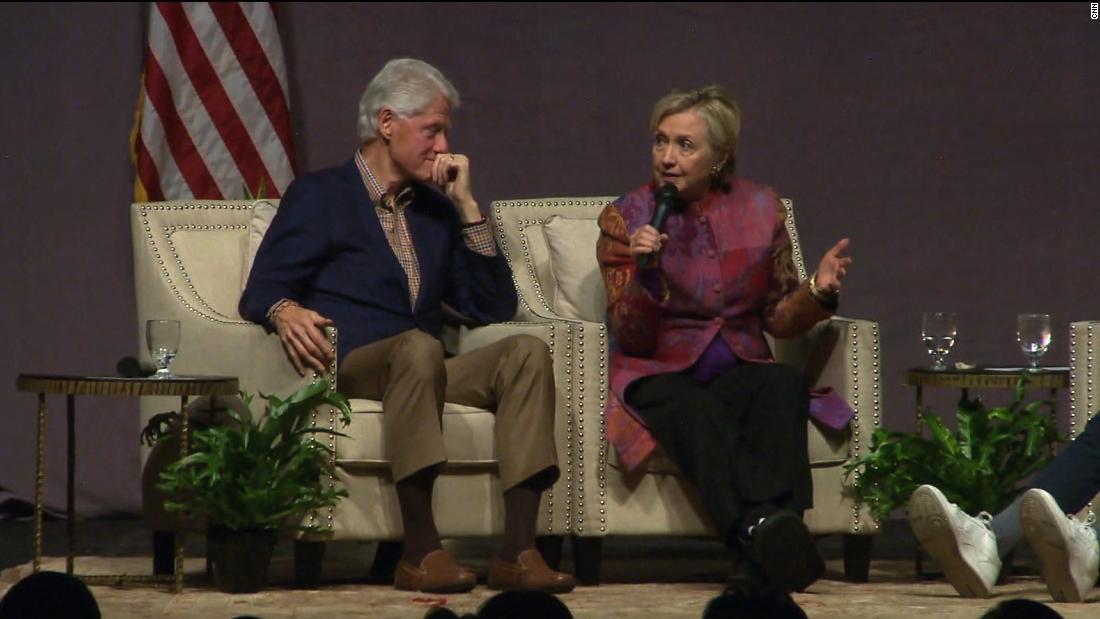 She's made the point several times. In an interview with Mother Jones on Nov. 17, Clinton said that there were questions about the legitimacy of the election results, and said that Russian meddling as well as attempts by Republicans to make it harder to vote "contributed to the outcome." U.S. intelligence agencies are in agreement that Russia meddled in the 2016 presidential election with the intent of supporting Donald Trump, using fake news and social media trolling campaigns to undermine "public faith" in the election process.
Clinton also referenced her memoir about the 2016 election, What Happened, to make the point that she was "very focused on making sure it doesn't happen again" — and that's why she continues to speak out. "I'm going to do everything I can to try to have an election in 2018 that's about real things," she said.
In the meantime, it seems, Trump will keep tweeting about her doing so. That's OK, though. We know that Clinton knows how to deal with it.