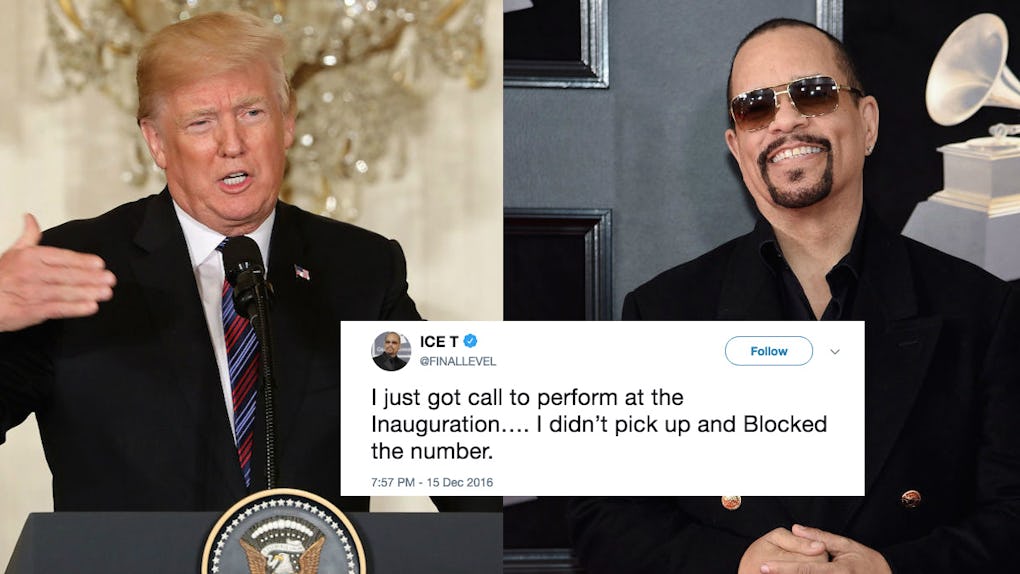 Chip Somodevilla/Jamie McCarthy/Getty Images
These Celebrities Trolled Trump On Twitter & You Probably Missed It
President Donald Trump lashes out at a lot of people on Twitter, and the news cycle pivots to cover those interactions. But there's also been quite a lot of public figures who have tweeted Trump and gotten no response, so it isn't as well-covered. These celebrities have trolled Trump on Twitter and you probably missed it when it happened because everything happens at the speed of light now.
The New York Times has been compiling a list of all the people, places, and things that President Trump has attacked on Twitter — a project that revealed a wide-ranging list of 425 entries, and speaks to a broader pattern of Trump's reactive behavior. The list includes entries about everything from North Korean leader Kim Jong-un to TV personality Rosie O'Donnell.
While it's not the most shocking turn of events that actors, musicians, and people of Hollywood aren't the biggest fan of Trump's, it certainly made for a less-than-entertaining inauguration ceremony. Celebs like Ice-T, John Legend, and Issa Rae, awkwardly declined the White House's request for them to perform at Trump's inauguration.
This was all before Trump even so much as lifted a pen to sign a piece of legislation, and it certainly didn't get any better once he did. Here's a list of celebrities who have refused to mince words to Trump on Twitter.
Jessica Chastain was not having Trump's alleged restrictions on National Parks employees' ability to tweet.
In January 2017, Trump reportedly restricted the National Parks Service from tweeting about his inauguration's crowd size. The parks team later retracted their retweet of a side-by-side comparison between Obama and Trump's inauguration crowd size. Chastain called out Trump for trying to suppress his employees' Twitter access, having voiced concerns about the organization's ability to disseminate accurate information about climate change.
Chrissy Teigen has a long history of not taking any sh*t when it comes to Trump.
In July 2017, model Chrissy Teigen replied to one of the president's tweets with a very direct sentiment: "Lolllllll no one likes you."
Her reply was liked more than 36,000 times, but it didn't stop there. Trump was apparently so bothered by her tweet, that he took further action against Teigen.
The next day, she tweeted a photo that showed Trump had blocked her on Twitter.
Jim Carrey posted a shocking cartoon of Trump having sex with what appears to be adult film star Stormy Daniels.
Ashley Judd roasted Trump with the grace and class you'd expect from Ashley Judd.
The actress took to Twitter in January during Trump's State of the Union address and very assuredly called bigotry what it was. She offered a hopeful vision for America that does not discriminate and is inclusive in its policies.
Judd, along with Madonna and Scarlett Johansson, made headlines for their electrifying remarks at the 2017 Women's March. Judd proclaimed that she was a "nasty woman," and Madonna said that she had often thought about "blowing up the White House."
Patton Oswalt laid out what Trump critics have been thinking with this tweet.
LeBron James came to Stephen Curry's defense when Trump claimed he "uninvited" him to the White House.
After prominent members of the Golden State Warriors told reporters that they would not visit the White House, President Trump decided to tweet about it, because of course he did.
LeBron James came to Curry's defense almost immediately and implied that the president's tweet was not rooted in fact. He didn't use Trump's name, but explicitly referred to the White House, calling him a "bum."
It would be impossible to capture all of the times public figures have tweeted their displeasure at Trump. Rest assured, though, there will almost certainly be plenty more tweets to choose from.