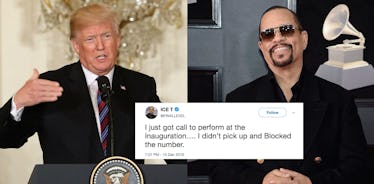 You Probably Missed These Times Celebs Trolled Trump On Twitter
Chip Somodevilla/Jamie McCarthy/Getty Images
President Donald Trump lashes out at a lot of people on Twitter, and the news cycle pivots to cover those interactions. But there's also been quite a lot of public figures who have tweeted Trump and gotten no response, so it isn't as well-covered. These celebrities have trolled Trump on Twitter and you probably missed it when it happened because everything happens at the speed of light now.
The New York Times has been compiling a list of all the people, places, and things that President Trump has attacked on Twitter — a project that revealed a wide-ranging list of 425 entries, and speaks to a broader pattern of Trump's reactive behavior. The list includes entries about everything from North Korean leader Kim Jong-un to TV personality Rosie O'Donnell.
While it's not the most shocking turn of events that actors, musicians, and people of Hollywood aren't the biggest fan of Trump's, it certainly made for a less-than-entertaining inauguration ceremony. Celebs like Ice-T, John Legend, and Issa Rae, awkwardly declined the White House's request for them to perform at Trump's inauguration.
This was all before Trump even so much as lifted a pen to sign a piece of legislation, and it certainly didn't get any better once he did. Here's a list of celebrities who have refused to mince words to Trump on Twitter.