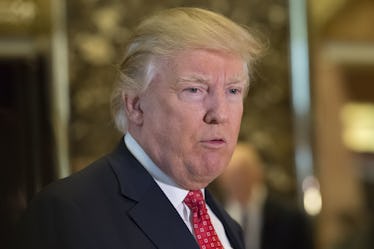 Here Are The Worst Trump Burns From Celebs Asked To Perform At His Inauguration
RexFeatures
On January 20, 2017, President-elect Donald J. Trump will be sworn into the highest position of power in the free world.
Based on that fact alone, celebrities and musicians alike should be clamoring to perform, or even get tickets to the event.
But for some reason they are not. (And by some reason, I mean due to his divisive rhetoric, disrespect for traditions, callous remarks, classlessness, truly terrible oration and small creepy hands.)
Anyway, he's having a hard time finding someone to perform for his ceremony, and here are the hilarious ways people rejected him.
Idina Menzel 
In an interview with Vanity Fair, the songstress said she and other stars are still recovering from helping Hillary Clinton with her campaign. In reference to the empty performer slots at the inauguration, she said,
I think it's karma, baby… Maybe he'll just have to sing something himself. He probably thinks he has a great voice; he thinks he does everything great.
Ice T
It's no surprise Ice T would ignore President-elect Trump's phone call. First off, what song would he perform? "Cop Killer"?
John Legend
In an interview with BBC, Legend said he wasn't shocked at all that Trump was having a hard time finding people to perform. He said,
Creative people tend to reject bigotry and hate. We tend to be more liberal-minded. When we see somebody that's preaching division and hate and bigotry, it's unlikely he'll get a lot of creative people that want to be associated with him.
He also just really dislikes Trump in general.
The Rockettes
It makes perfect sense for a person who has no respect for women's bodies to force them to do something they do not want to do.
However, after this letter went viral, it was announced the Rockettes will not be forced to perform at the inauguration.
Moby
The '90s DJ responsible for the hit "Porcelain" took to Instagram to express his disdain, writing,
Hahahahaha, I was just asked by a booking agent if I would consider djing at one of the inaugural balls for #trump… Hahahahaha, wait, Hahahaha, really? I guess I'd DJ at an inaugural ball if as payment #trump released his tax returns. Also I would probably play Public Enemy and Stockhausen remixes to entertain the republicans. I'm still laughing. Hahahaha. So #trump what do you think, I DJ for you and you release your tax returns?
Charlotte Church
And the simple internet search showed exactly that.
Issa Rae
In an exclusive interview with The Wrap, Issa Rae gave a detailed description of the only circumstances she would perform under, saying,
If I died and they 'Weekend at Bernies'ed me, so they just propped me up, that's literally the only way I would perform. I would just be like [lifeless], and they'll move my lips for me.
Eight years ago, artists were singing a different tune.
After Barack Obama was elected in 2008, musicians were vying for the opportunity to perform at his historical inauguration.
But alas, President Obama chose Aretha Franklin, who performed "My Country, 'Tis of Thee" in a massive Swarovski-studded hat, and brought down the house.
At President Obama's second inauguration in 2013, he invited Beyoncé to sing the National Anthem.
And it was great.
Sorry Trump, guess you have to be a decent person to have the likes of Beyoncé perform for you.
Citations: Idina Menzel Says 'Karma' Is Behind Donald Trump's Rumored Inauguration Day Problems (Huffington Post)