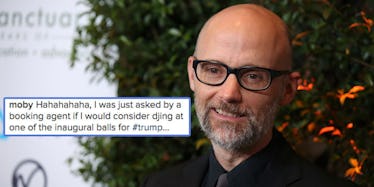 DJ Pens Brutal Post After He's Asked To Perform For Trump: 'I'm Still Laughing'
REX/Shutterstock/Instagram
Remember the '90s and Moby?
You know, the master behind smash hits like "Porcelain" and, apparently, a curator of political sass.
The DJ was asked to perform at Donald Trump's inaugural ball and DID NOT hold back in his response.
He posted a savage explanation on Instagram saying he'll only do it if Trump releases his tax returns.
Moby wrote,
Hahahahaha, I was just asked by a booking agent if I would consider djing at one of the inaugural balls for #trump... Hahahahaha, wait, Hahahaha, really? I guess I'd DJ at an inaugural ball if as payment #trump released his tax returns. Also I would probably play Public Enemy and Stockhausen remixes to entertain the republicans. I'm still laughing. Hahahaha. So #trump what do you think, I DJ for you and you release your tax returns?
Brutal.
The challenge has been backed by many on Instagram who, obviously, would like to see Trump's tax returns.
During an interview with "60 Minutes," the businessman said he would release them when the time is right.
But he hasn't brought it up since -- he's probably busy trying to explain why there's an allegedly classified report circulating that claims he got up to some pretty weird things in a Moscow hotel.
There are allegations against the president-elect saying he once hired two prostitutes to perform a "golden showers" show on a bed Barack and Michelle Obama shared at the Ritz Carlton Hotel.
The outrageous claim is one of many in a 35-page dossier suggesting the Russian government spied on Trump to collect blackmail material against him.
It was allegedly put together by a British intelligence agent and was circulating among officials and the intel community for weeks.
The document was published in full on Tuesday night. It has not been verified by an official source and there are clear mistakes in the dossier.