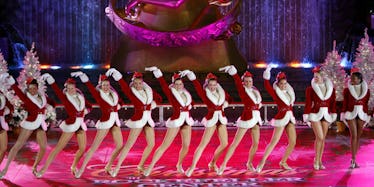 Rockette Pens Angry Post About Being Forced To Dance At Trump's Inauguration
REUTERS
The Radio City Rockettes are being forced to perform at the presidential inauguration of Donald Trump — and some of them are really not happy about that.
Rockette Phoebe Pearl posted about her discomfort on her Instagram, which is private.
She wrote that she was feeling "overwhelmed with emotion" and that learning the Rockettes have to perform for Trump makes her feel "embarrassed and disappointed."
Pearl wrote,
The women I work with are intelligent and are full of love and the decision of performing for a man that stands for everything we're against is appalling.
She said that she is just speaking for herself with the note, bu said, "[W]e have been performing with tears in our eyes and heavy hearts."
Pearl ended the note with the hashtag #NotMyPresident.
The Rockettes are being forced to perform at Trump's inauguration by their union.
After concern from the Rockettes was apparently expressed about getting "involved in a dangerous political climate" through performing, the American Guild of Variety Artists apparently sent an email to the famed dancers.
The email, obtained by BroadwayWorld, says,
Any talk of boycotting this event is invalid, I'm afraid.
It goes on to say that "ranting of the public is just that" and that having an opinion "does not change your employment status."
The email says,
It is a job, and all of you should consider it an honor, no matter who is being sworn in.
Only full-time Rockettes are being forced to perform at the inauguration. Dancers who are not full-time with the Rockettes are not obligated to sign up to perform.
The public is continuing its ranting by debating this topic.
Some believe it's gross that these women are being forced to perform for a man who has said he "grab[s women] by the pussy" and has been accused of assault at least a dozen times.
Others believe women should shut up and do what they're told.
Trump has been having a lot of trouble trying to find performers for his inauguration.
So far, he's gotten 16-year-old reality TV star Jackie Evancho and the Mormon Tabernacle Choir.
So, you know, clearly A-list celebs are lining up to perform.
Performers who have rejected invitations, according to the Daily Beast, include Elton John, Justin Timberlake, Bruno Mars, Katy Perry, Garth Brooks, Andrea Bocelli, Kiss, Celine Dion, David Foster and Kanye West.
Not even local marching bands want to perform at Trump's inauguration.
Citations: New York Post, BroadwayWorld, BYU, The Daily Beast