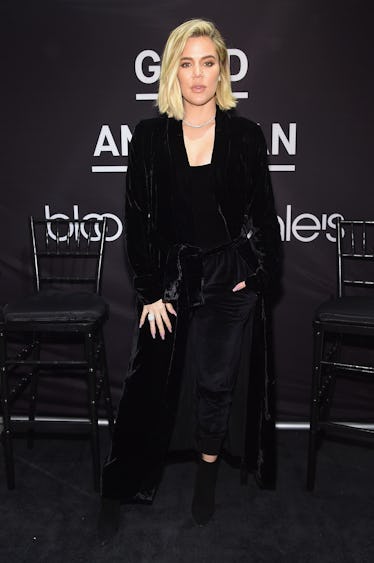 Here's What We Know So Far About Khloé Kardashian's Daughter's Name
Jamie McCarthy/Getty Images Entertainment/Getty Images
By now, you've probably read that Khloé Kardashian and Tristan Thompson have welcomed their daughter into the world. On Thursday, April 12, Kardashian gave birth to True Thompson, and we're all super happy for her. But many people want to know: Does Khloé Kardashian's baby have a middle name? Let's go over what we know.
On Dec. 20, 2017, Khloé posted the Instagram heard 'round the world when she shared the news that she and Tristan Thompson were having a baby. She wrote:
My greatest dream realized! We are having a baby! I had been waiting and wondering but God had a plan all along. He knew what He was doing. I simply had to trust in Him and be patient. I still at times can't believe that our love created life! Tristan, thank you for loving me the way that you do! Thank you for treating me like a Queen! Thank you for making me feel beautiful at all stages! Tristan, most of all, Thank you for making me a MOMMY!!! You have made this experience even more magical than I could have envisioned! I will never forget how wonderful you've been to me during this time! Thank you for making me so happy my love!
Cuteness level: 1,000.
Then, on the season finale of Keeping Up With The Kardashians, we found out that Khloé Kardashian was having a baby girl when Kylie Jenner learned the sex from Khloé's doctor and called to tell her the news. It shocked Khloé because she was positive that she was carrying a boy, but the news excited everyone, especially mama Kris:
But nothing beats Tristan Thompson's reaction when he walks into a room filled with pink balloons, signifying that he's going to be a dad to a baby girl.
"Oh my God! Ohhhhh! My vision was right. I knew it!," he said to Khloé, who was taping him the entire time.
If you want to watch it all unfold (and inevitably cry tears of joy), check out the video below:
Once fans knew that Khloé was having a girl, the Twitterverse basically became a baby-naming generator, giving the couple a ton of options to name their daughter.
With the fact that she was considering names with a K or a T in mind for a daughter, many fans gave some pretty adorable options:
Some decided to play up some name ideas based on a location (like Kim Kardashian's daughter Chicago):
While others gave names based off weather conditions (like Kylie's daughter, Stormi):
But the rumor mill halted to a stop when Khloé announced her daughter's name in an emotional Instagram post.
She posted a photo of pink balloons, roses, and baby toys, along with the caption:
Our little girl, True Thompson, has completely stolen our hearts and we are overwhelmed with LOVE. Such a blessing to welcome this angel into the family! Mommy and Daddy loooooove you True!
So, it looks like True might not have a middle name, but with a gorgeous first name like hers, she doesn't even need one.
A quick thing about the Kardashian-Jenner family, and their take on middle names: We know that Kim Kardashian didn't give her children middle names, but when you're North, Saint, and Chicago, is it even necessary? Pretty sure people know them on a first-name basis at this point.
We also know that Kourtney Kardashian went in the opposite direction of Kim and gave all of her three children middle names: Mason Dash, Penelope Scotland, and Reign Aston. All solid choices if you ask me.
Kylie's daughter falls into the no middle name category, naming her daughter Stormi Webster. Rob Kardashian joined the middle name club by naming his daughter Dream Renée.
It seems that Khloé is going against the grain like Kim K and is not giving her daughter a middle name.
While Khloé herself has yet to confirm for sure if her daughter has a middle name, True Thompson is a gorgeous, meaningful moniker that rolls off the tongue with ease.