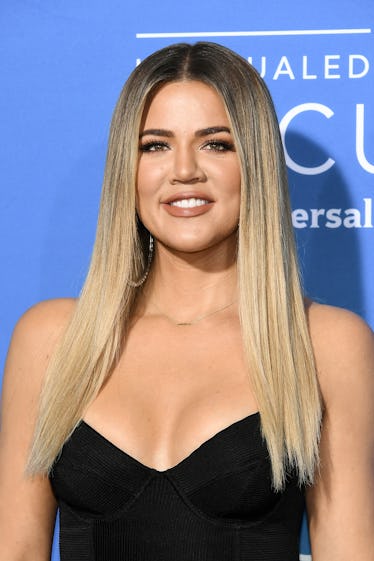 These Theories About What Khloé Kardashian Will Name Her Baby Are So, So Good
Dia Dipasupil/Getty Images Entertainment/Getty Images
The Kardashian family's future is most certainly female. The world was overjoyed when Kim K introduced us to her daughter, Chicago. We cried tears of joy when we found out that Kylie was in fact pregnant all along and had a baby girl named Stormi. And then, in the season finale of Keeping Up With The Kardashians on March 4, we found out that Khloé and boyfriend Tristan Thompson are expecting... yep, you guessed it: A GIRL! As soon as fans found out the sex of the baby, the Baby Name Speculation Train wheels were in motion. While some suggestions seemed to come out of left field, other Khloé Kardashian baby name theories from around the interwebs had some promise of being an actual possibility for the soon-to-be mom.
We should first probably start with the obvious: Khloé Kardashian has said in the past that if she was having a daughter, she'd consider a name that start with the letters K or T. On Jan. 4, Khloé went on The Ellen DeGeneres Show and told DeGeneres that she and Tristan wanted to find out the sex of the baby, saying, "There's too many surprises in this whole thing that I'm definitely going to know."
I totally feel that. If I was having a baby, there is NO way I could wait until I gave birth to know find out the sex.
Khloé then talked about possible names if she was having a boy, saying, "I think if it's a boy, I'll go with Tristan Junior," which would have absolutely been a solid choice. But she was undecided when it came to naming the baby if she was having a girl. She said, "For a girl I don't even know where to begin. I think I'll go with a K or a T name though."
While the naming possibilities are seemingly endless, choosing a moniker that begins with a K or T that also works for their little family can be a bit of a task.
More recently, a fan asked Khloé on Twitter if she had her daughter's name picked out yet:
And Khloé actually responded:
Luckily, Twitter stepped in with some ideas. How thoughtful!
Some fans totally ignored the fact that Khloé said she was considering a name that started with a T or a K:
While others thought she might go with the name of a place a là Kim Kardashian's daughter, Chicago West:
And of course, many fans chimed in with weather-related names to match cousin Stormi:
Hoping beyond hope that these people just had jokes, and most of these weren't *actual* suggestions. To be fair, though, some of them did start with a K or a T.
But this brings us to the names that actually might have a winning chance at being chosen as the next Kardashian name:
No lie, some of these are legitimately cute. Bravo, Twitter!
There are some people who think that Khloé is going to name her daughter after someone in her or Tristan's family, which I'd be totally down for:
Perhaps she'll consider paying tribute to her father, Robert, and name her daughter Robbie or Robyn... but that doesn't go with the K or T motif, so maybe not. It's anyone's game, really, and at this point, Khloé herself still seems to be undecided.
There is one name that I haven't seen yet that might work really, really well. Khloé, if you're reading this, I have a great suggestion: Karen. Maybe I'm biased, but I've always thought the name was nice and traditional — It's classy without being stuffy, no? It could be perfect for your newest addition, so just think about it for me, OK?