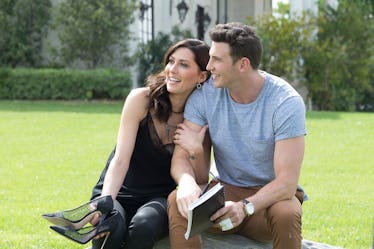 5 'Bachelorette' Clues That May Prove Blake & Becca Are Meant To Be
ABC/Paul Hebert
There are only six men left on this season of The Bachelorette, and each has a strong connection with Becca. At this point, Becca can see a future with each of the guys, which means that shrinking down the group to one final winner is going to be tough. But one guy has stood out throughout the entire competition, and now, fans are curious: Does Blake win The Bachelorette? The Colorado native captured Becca's heart in Week 1, and these five clues suggest that their connection will last long after the show ends.
Blake and Becca first met during the After The Final Rose special in March, and they immediately hit it off. You may remember him as the guy who rode in on a horse and reminded Becca that after facing heartbreak, you have to get back in the saddle. Cue a ride into the sunset. JK, that didn't happen, but Becca did laugh at his cheesy joke, so I'll count that as a win for Blake.
Blake is the only guy from the After The Final Rose special who's still on The Bachelorette, so it's clear that his initial spark with Becca has lasted. But their meet-cute isn't the only hint that Becca and Blake are meant to be: There are plenty of other signs that these two are destined for love. Here are five clues that may prove that Blake wins the final rose on Season 14 of The Bachelorette.