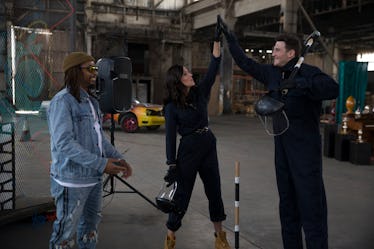 Lil Jon Was On 'The Bachelorette' While Becca Smashed Memories Of Arie & That's Not A Joke
ABC
The first one-on-one date on The Bachelorette is usually singled out for its romance and sweeping grand gestures, but Becca's first individual date of the season with Blake broke that tradition. Lil Jon was on The Bachelorette while Becca and Blake smashed visual memories of Arie and, yes, it was as bizarre as you'd expect. I guess we're far from leaving Becca's connection to Arie behind us, huh?
Blake, a 28-year-old sales rep from Colorado, has been a standout among the men since he was first introduced entering on a horse on the live "After the Final Rose" special. Despite that there was an obvious connection between Blake and Becca on Night One, she waited until the first one-on-one opportunity to know him in a more private setting. When their car pulled up to a dilapidated, slightly sketchy-looking building once on the date, it was clear that, just like Blake's pattern in making entrances, very little about this date would be normal. Why else would Chris Harrison greet them with a sledgehammer in tow?
Once inside the warehouse, the pair spotted a race car and TVs playing Arie's proposal to Becca alongside — surprise! — Lil Jon, aka the soundtrack to everyone's college freshman orientation. I love obscure musician appearances on The Bachelorette as much as the next gal, but seeing him definitely kicked up the "what?" level to a whole other notch. Was he going to pull a Bachelorette throwback and rap about Blake being there for the right reasons?
The rapper proceeded to play his hit "Turn Down for What" while Becca and Blake used their own hammers to smash the car, TVs, and even the "exact" couch on which Arie broke up with Becca. How long are you milking this cow, ABC?
Although the date sounds like a nonsensical dream to me, Becca loved it, clearly delighting in smashing up reminders of her ex. Blake initially seemed a little skeptical about getting in on the action, but by the end, both he and Becca had no issues destroying Arie mementos. And the show is still inviting him to visit Becca on the show after all of this?
While Becca had her cathartic moment, Lil Jon was actually pretty into providing the soundtrack and appropriate commentary for the occasion. He even turned on some mood music when she and Blake took a break, and fans on Twitter loved his attentiveness to the couple.
We all know that Becca is always down to do the damn thing, and Blake playing along with her destruction mission proved that he's willing to go along with the catchphrase too. On the night portion of their date, he opened up about how badly his last major relationship ended and how easy bonding with Becca was so far. Blake's sweetness and honesty quickly won over Bachelor Nation, and I totally get why. Genuine and kind to animals? I'm sold.
Although Blake came away from the date with a rose, fans were still obsessed with Lil Jon's cameo, and the musician lapped up the praise on Twitter, retweeting plenty of viewers' supportive messages. He even acknowledged in his own tweet that, hypothetically, he'd totally run away with Becca if she offered. There's a spinoff series I'd love to see.
Kicking off the season with such a high-profile celeb appearance is a tough act to follow, but I think that Tia-Colton confrontation that next week's teaser hinted at is bound to sweep any musician cameos under the rug. It was fun while it lasted, Lil Jon.
The Bachelorette returns on Tuesday, June 12, at 8 p.m. ET on ABC.