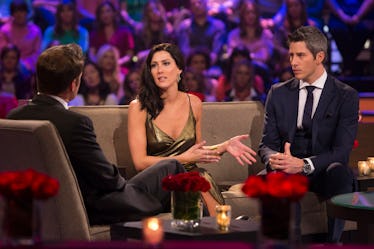 Arie & Becca Will Reunite On 'The Bachelorette' Even Though No One Wants To See That Again
ABC
I'd be more than happy if former Bachelor Arie Luyendyk Jr. went off the grid and we never heard from him again, but he and fiancée Lauren Burnham somehow manage to keep popping up. Given how he hurt initial Final Rose pick Becca Kufrin on his own season, mentions of Arie on her year of The Bachelorette are inevitable, but we'll have to sit through one more encounter between the onetime couple later this season. Becca revealed that Arie will be on The Bachelorette, and I'm wondering what Bachelor Nation did to deserve this punishment.
While speaking to Entertainment Tonight, Becca shared that her former fiancé will pay her a visit later in the season. Clearly, both parties have moved on from their relationship, and Becca made that clear in her tease of their Bachelorette conversation:
He will show up, yes. We do have a conversation and you'll just have to see that unfold. At that point it wasn't emotional, it was just two adults sitting down, wishing each other the best and talking through our experiences. That was our last conversation we've had. I knew that would probably be the last time we had a conversation, and I wish him and Lauren the best.
Proving that she's been nothing but a class act throughout this process, Becca continues to show no hard feelings about Arie's actions. In case you forgot (which is unlikely), Arie proposed to Becca at his final rose ceremony, but ended their engagement several weeks later to pursue runner-up Lauren. With Arie due for a Bachelorette cameo, we'll inevitably see another recap of the fiasco sometime soon. Do we really need to revisit that moment again, ABC?
Since his season finale, Arie has also flipped back and forth with his stance on The Bachelor's supposedly unedited footage of his breakup with Becca. To quote our most monosyllabic Bachelor, "I don't love that."
In interviews immediately following the Bachelor conclusion, Arie first claimed that he filmed the breakup so the blame was on him and Becca could become the Bachelorette. But in the past week, Arie has said that he feels "betrayed" by ABC for the portrayal of the situation and that the breakup scene was edited. In a recent GQ profile exploring his new life with Lauren, Arie addressed dumping Becca on camera, saying:
It was completely edited. I was told to stay on that couch. I tried to leave, and then production was like, 'You need to go back inside. She's finally calming down. I feel like you owe it to her to have this conversation.' So then I went back in the house.
Ouch. Arie has definitely dug himself a hole with ABC in the past few weeks, but seeing as his comments came after Bachelorette filming, perhaps his saltiness won't come across in this surprise appearance on Becca's season. In her own classy way, Becca subtly told ET that Arie acted on his own terms during the breakup, saying:
His actions were his own. I don't think production really had a hand in how long he stayed or didn't stay. I explicitly said 'leave' and 'get out,' and he could have if he wanted to. He's a grown adult.
It won't be the first time a franchise ex has visited the lead on his or her own journey of love. On Nick Viall's Bachelor season, the show dramatically teased an appearance by his original Bachelorette, Andi Dorfman, but she essentially just played the role of an objective feminine sounding board. I have a feeling that Arie probably won't curl up on the couch with Becca to dish about how dreamy her remaining guys are, but that's just me.
Until we have more clues about when Arie stops by for a chat with Becca, I'll make sure I have enough wine to get me through that conversation. I'm not a fan of Arie's ever-changing views of the breakup, so let's hope that Becca finds a way to respectfully slap some sense into him.
The Bachelorette returns on Monday, June 4, at 8 p.m. ET on ABC.