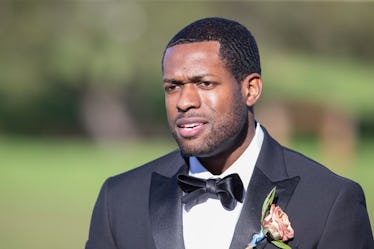 Becca Sent Home Jean Blanc On 'The Bachelorette' & It Was Painfully Awkward
ABC/Paul Hebert
Um, is everyone OK out there in Bachelor Nation? On Monday night, things got awkward when Jean Blanc told Becca he loved her and she was not ready for it. Instead of just moving on, Jean Blanc kept pushing, and Becca had no choice but to make a drastic move. After some back and forth, Becca sent Jean Blanc home on The Bachelorette, and it was beyond awkward. I'm talking next-level, can't stop cringing awkward.
Week 4 was an unusual one for The Bachelorette. The episode opened with a rose ceremony, and colognoisseur Jean Blanc was the last man to get a rose. Naturally, this lit a fire under his butt, and he resolved to get Becca's attention once the group hit Park City, Utah — and boy, did he.
During the group date, Jean Blanc struggled to show off his lumberjack abilities, but so did plenty of the other guys. I mean, not everyone can be a pro athlete or a physical trainer. These dudes didn't let it affect them too much, but Jean did the opposite and began to fixate on getting alone time with Becca during the cocktail party. Bro, have you never watched The Bachelorette? Don't you know that trying to monopolize her time will only make her and the other guys resent you?
During his first moment alone with Becca, Jean Blanc gifted her a custom fragrance called "Miss Becca Blanc" (remember, he's a colognoisseur, whatever that means). Becca seemed grateful, and Jean then decided to whisper something secretive into her ear. Becca was openly surprised by whatever it is Jean Blanc said, and she told the audience that she's not sure how to feel about Jean Blanc. Same, girl, same. I'm was getting some seriously sleazy vibes.
Luckily for Becca (and my anxiety), Leo interrupted her conversation with Jean Blanc. I've never been so excited to see that long-haired man. However, it was only a few minutes before Jean Blanc returned to interrupt someone else's date, saying that he was about to make a "bold move" and "leave it all out on the table" for Becca.
And then, it happened. Jean Blanc told Becca that he was falling in love with her, and Becca was beyond shocked. It's only Week 4, can you blame her? Jean may not have watched The Bachelorette before, but Becca certainly has, so she saw though his line immediately. Rather than waste either of their time, Becca sent Jean Blanc home, and he did not take it well.
Lesson number one in a Bachelorette breakup: When someone is sending you home, just shut up and let it happen. Jean definitely didn't do this, and instead, he asked for the custom perfume back. Naturally, Becca was pissed, but things got even worse when Jean told her that he didn't actually mean what he said about falling in love with her. Bachelorette breakup tip number two: Don't lie about anything, and especially don't lie about falling in love with the Bachelorette.
All in all, Jean Blanc's departure was one of the most awkward things fans have seen from this season of The Bachelorette, and that's saying a lot considering everything we've seen this season. I mean, fans have already seen a dumb feud between David and Jordan, an uncomfortable love triangle between Colton, Tia, and Becca, and a love affair between Lincoln and a photo, but this Jean Blanc situation takes the awkwardness cake.
Immediately after Jean Blanc left the mansion, Bachelor Nation took to Twitter in an attempt to figure out what just happened.
This season of The Bachelorette is going to need to chill with the awkwardness. Cringing my way through each two-hour episode is starting to make my face hurt.