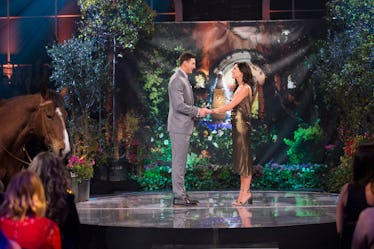 Here's What You Should Know About The 'Bachelorette' Contestant Who Showed Up With A Horse
There's always that one guy who goes the extra mile in something. On the recent "After the Final Rose" special, that standout guy was Blake Horstmann, aka the one who brought in the horse. Literally sweeping new Bachelorette Becca Kufrin off her feet and helping her climb onto a horse, Blake made a stellar first impression with both Becca and Bachelor Nation. Going to such extremes for such a brief appearance screams of frontrunner potential, and it's safe to say that Blake is worth watching this season. So, with a little more than two months to go until the Bachelorette premiere, who is Blake?
According to his LinkedIn page, the Denver local works as a sales representative at Coors Distributing Company. A graduate of Nebraska's Hastings College, Blake was also a college football player, but a look at his resume definitely confirms that beer is one of his true passions. He's worked at Coors since 2014 in different positions, and according to his Instagram bio, Blake is usually out of town, likely for business purposes.
At a startup brewing company in the middle of nowhere, publicists are definitely celebrating having a Bachelorette contestant who they can partner with for Instagram promotions. Goodbye flat tummy tea, hello microbrews!
But in all seriousness, Blake's meeting with Becca was quite sweet. After introducing the horse as Bradley, he told her:
I want you to know how incredibly brave I think it is that you're standing here right now. I cannot wait to get to know you. As the saying goes, when you fall off the horse, you have to get back up again. I brought you that horse, and I want to be the man who helps you get back up again.
While bringing a horse onto "After the Final Rose" puts a decent amount of pressure on Blake's limo exit, I'm more frazzled by the fact that this guy looks totally different in photos than he does on TV. In his much-used profile picture of him showing off some bow tie swag, Blake looks like an overeager college freshman attending a sports formal. Apparently it's a recent photo, and it's definitely adorable, but I just feel that it doesn't match with the physically built, calmer personality we met on "After the Final Rose."
Accompanying his love for beer is a love for Broncos football, which goes hand in hand with Blake being from Denver. I don't know much about the NFL or team rivalries, but if Blake ends up engaged to Becca, he could definitely knock down some of Uncle Gary's walls by talking about football with him.
Being the final man to arrive on "After the Final Rose," Blake could end up becoming the guy who other men theorize about on Night One. Given how low-key the "After the Final Rose" men acted when Rachel Lindsay began her tenure as Bachelorette last year, it could be the first time the other contestants feel truly threatened by someone before the season even begins.
"Why did he bring a horse?" "Is he overcompensating for something?" "What's with his thing for bow ties?"
Depending on how he handles other men's criticism (if any), Blake could receive either a glowing or a sketchy edit. There's obviously a reason why he was selected to be one of the first men introduced to viewers, and I'm intrigued by what Blake could bring to the table this season. Hopefully, entering with a big bang on "After the Final Rose" doesn't lead to him faltering quickly during filming.
The Bachelorette premieres on Monday, May 28, at 8 p.m. ET on ABC.