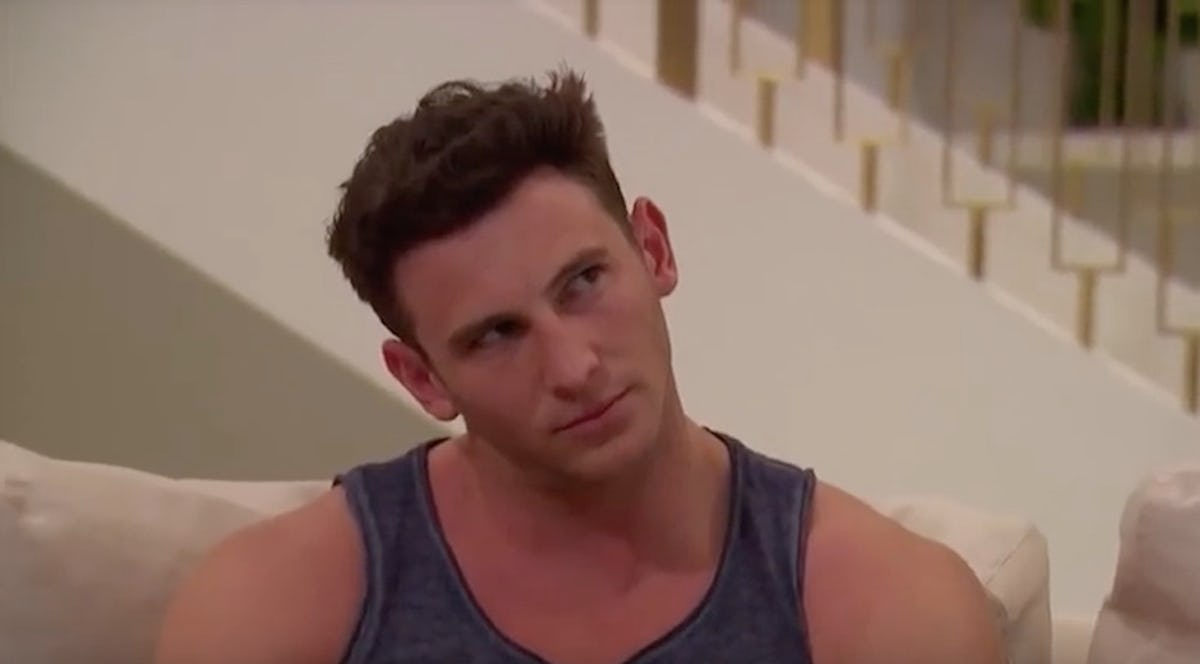 A Sneak Peek Of This Week's 'Bachelorette' Episode Shows Drama Brewing With Blake
ABC/YouTube
Another week on The Bachelorette, another guy second guessing his future with Becca. It's been a while since Blake got a 1-on-1 — and he definitely noticed. ET shared a Bachelorette Episode 7 sneak peek that shows he isn't too pleased with Garrett's impending time with Becca. In fact, he's calling the move a "slap in the face."
"I can feel go out of all the other guys' in the room when my name was called," Garrett admits, after he gets a solo date card.
"Seeing Garrett get the 1-on-1 was a slap in the face. She has to know this is killing me. She has to," Blake told the camera. Aww. Hang in there, bud!
Blake has remained a steady competitor throughout Becca's journey, but the last time he had a 1-on-1 was the very first one of the season. Remember how they smashed reminders of Arie while Lil Jon performed in the background? Yeah, wasn't a dream. Since then, Blake has even managed to confess his feelings for Becca (he even said the L word in Vegas), so it's understandable that he's frustrated with not receiving more alone time.
"I thought me and Becca had something special but maybe I'm just completely out of my mind. Maybe there's nothing there. I don't know, maybe I'm just like making it all up in my head," Blake says in the dramatic preview for week 7.
"I knew I already had been falling in love with Becca for quite some time," Blake revealed in Las Vegas on week 5 prior to nabbing a group date rose.
"Honestly Becca, I am falling in love you. I really am," he ended up telling Becca, who responded with a "I like hearing that." Not exactly the number one response someone wants when pouring their heart out, but this is The Bachelorette and things progress a litte differently. Usually "love" doesn't get thrown around by the leading lady or man until at least hometowns. Well, not necessarily to the person's face.
"I just feel so natural and so right. I am falling in love with Blake and I honestly knew it from the beginning," Becca addressed the camera.
Maybe it's not all in Blake's head after all...
Garrett's last 1-on-1 was in week 4 when he and Becca when bobsledding in Park City, Utah. I have to empathize with Blake for getting a bit nervous about his fate while watching the other dudes get dates. There are six suitors left and week 7 is pretty crucial in this game and will likely solidify who will have the opportunity to take Becca home to meet their families. It's crunch time, Bachelor Nation.
Blake is a sales rep from Colorado who memorably rolled up on an ox in the premiere. He also had a leg up on the competition because he initially met Becca on "After the Final Rose" — that's where he showed up with a horse in tow.
Week 7 finds Becca and the men in the steamy Bahamas and according to the episode's promo, things are seriously heating up.
"It is working so much more than I ever expected at this point," Becca is heard saying while shots of her making out on both a beach and a boat flash across the screen.
As connections deepen (or don't), the tension is obviously rising among the men. Honestly, it seems like everyone is bugging out about where they stand right about now. Looks like Blake isn't the only one feeling the burn of insecurity.
The Bachelorette airs Monday at 8 p.m. ET on ABC.