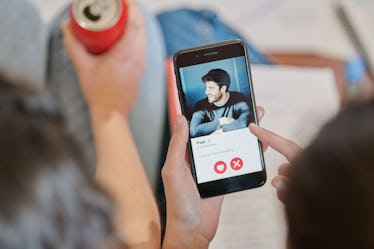 If You Love Swiping From Your Couch, Try These 4 Lazy Girl Life Hacks For Using Dating Apps
Serial swipers know this: there are both perks and pitfalls to using dating apps. Not all matches lead to romance, but the chance that one could keeps us eagerly swiping away. While — just as with dating IRL — using dating apps comes with dead-end conversations, ghosting, and numerous other challenges to deal with, there's also the incredible opportunity to meet someone you might not have otherwise crossed paths with.
In order to reap the most rewards from dating apps, you'll definitely need to be strategic with your swiping. Science has shown a number of tactics that may help your dating app game. For example, a Princeton University study from 2016 found that people are more likely to be successful on these apps if they include photos in which they have expansive postures (for example, their arms are facing outward rather than folded across their chest). Researchers concluded that these postures suggest traits such as dominance and openness, which are considered enticing.
Researchers Sameer Chaudhry and Khalid Khan published a review of 86 studies that focused on converting dating app conversations into a first date and concluded that the most successful profiles feature a 70:30 ratio — 70 percent of information about yourself, and 30 percent describing what you're looking for. Their research also revealed that using simple language in your profile description makes you stand out, and that group photos make you more attractive because you appear social and fun-loving.
There are so many other tactics to try, however, if you really want to become a pro. Ready to take your dating app swagger up a notch? I talked to two digital dating experts to get some suggestions for super simple hacks for more successful swiping.