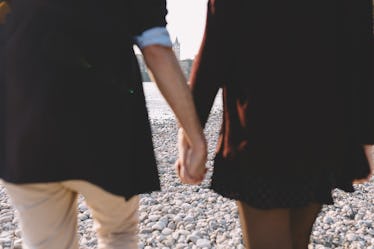 5 Reasons It's Actually Incredibly Romantic To Meet Someone On A Dating App
Hot take: dating apps are romantic. Give me your sailboat bros, your "entrepreneurs," your huddled creative directors yearning to send dick pics — I will happily accept them all. See, part of the romance of meeting someone on a dating app is that you've endured such hardships prior to finding them.
But before my saccharine musings and co-option of Emma Lazarus' poetry turn you off, let's break down some actual facts about dating apps. First, they're all we've got. Well, they're all we've got if we're too scared to approach someone in person (*raises hand*) and not trying to drop hundreds of dollars on a matchmaker (*raises hand*). It's not weird to meet someone on a dating app anymore.
Second, dating apps require more dedication than approaching someone at a bar after two (five) vodka-sodas. If someone who has never met you in the flesh is able to keep plans with you in the year 2018, don't discount the gesture.
Actually taking the time to utilize dating apps is the modern-day equivalent of climbing up a woman's braid to save her from a tower. Of course some people are just trying to get it in, but that's been happening since the dawn of time. Just ask cavewomen or literally anyone who slept with Don Draper types in the '60s. Dating apps didn't spawn casual sex.
Now, let me profess the ways in which I find meeting someone on a dating app to be incredibly romantic. Before you slide into my mentions, hear me out.