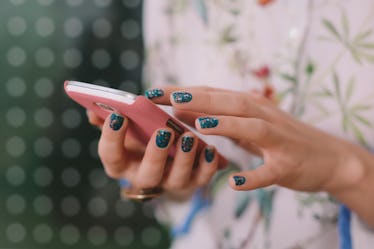 9 Hilarious Opening Lines To Send On Dating Apps That'll Guarantee A Reply
Trying to find the love of your life and live happily ever after aren't really laughing matters. But we can all agree that sometimes in life you just have to laugh at yourself, and for me, that absolutely applies to dating. Approaching your romantic adventures with a dash of humor might just be the way to find love, so you'd be wise to have a few funny opening lines to send on dating apps at the ready. Starting a conversation with a joke or a witty line not only sets the tone for fun banter, but it might also help you stand out from the crowd.
It can be tempting to overthink the first message you want to send to a match, and you might find yourself either staring blankly at your phone or typing and then deleting a version of "what's up?" over and over and over. It's tough to cram all your charm, personality, and attitude into one message, but your sense of humor is a massive part of who you are. Communicating your comic sensibility to your match will tell them a lot about you and also let them know that you're approaching dating apps with a grain of salt. You certainly don't have to be a comedian to score a date on an app, don't sorry. There's also a chance this person might not respond at all, so you might as well amuse yourself!