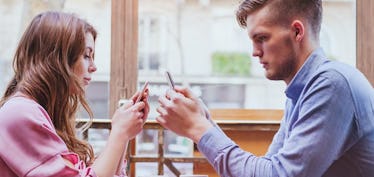 The Simple Secret To Getting 5x More Matches On Dating Apps
Ditty_about_summer
If you're looking for a woman to date online, there's one major thing that's likely standing between you and the first date: trust.
While 38 percent of American singles use an online dating app or site to search for dates, a striking one-third of them never actually meet anyone face-to-face. The most common reason cited is the fear of not knowing who will actually be sitting on the other side of the table.
So what's a person to do if they legitimately want to find someone, whether it's for a hookup, a relationship or anything in between? Short of carrying a lie-detector machine around, how can a person prove they're worthy of trust?
Well, finally, there's a solution: Love Lab, a hybrid between Carfax (for dating) and a Good Housekeeping Seal of Approval, developed by seasoned matchmaker and star of VH1's "Tough Love," Steve Ward, upon reading story after story about online dating scams and dangers.
Just last year, nearly 15,000 complaints labeled as romance scams or confidence fraud were reported to the FBI's Internet Crime Complaint Center (nearly 2,500 more than the previous year), and the losses associated with those complaints exceeded $230 million. Regardless of the main issue of safety, people want to be sure that the person they see on screen is going to be the person they will see in person.
And the persona that daters show on the screen is not 100 percent truthful: e-Harmony reports that 53 percent of people admit to lying on their dating profile. Of the fibs most often told, age, height/weight and job income are the most prevalent with more than 40 percent of men exaggerating their job in order to sound more professional, whereas 20 percent of women acknowledge using an older photo of themselves so that they appear younger and thinner.
With the online dating industry growing larger and larger, there are very few resources available to protect users. While there are no guarantees that these same statistics won't be true after a little fact-checking, Love Lab gives some sort of safeguard about honesty and can at least provide a bit of protection.
Ward understands that people just want to date and meet the person on the other end and, as such, has created this app to be an environment of trust where chemistry is more likely to occur. Love Lab wants to help usher you from stranger-on-screen to an in-person date. Think of it like a portable lie detector for your love life. It won't sniff out a person's deepest secrets, but it'll make sure what you see online is what you'll get in person.
How it works
Users will have a verified Love Lab link with their trust rating on it to use wherever their online dating adventures may take them. That means other users will be able to recognize instantly that you really are the Joe Shmoe you claim to be and pass a background check.
By downloading and installing the iPhone or Android app, Love Lab users can quickly verify - all in less than a minute - their phone number, email, social media, and photos by snapping an instant selfie that is measured against the profile pics for likeness. Then they prove their age and identity by passing a four-question multiple-choice quiz. Only the self-verified can then authorize a national criminal background check against their proven identity. Last names and personally identifying information are always concealed and just used to verify your info and passed a background check.
How to get five times the messages
Based on a focus groups done by the Love Lab team, findings revealed that those who place their Love Lab link on their Tinder, OkCupid or PlentyofFish profiles received five times as many messages than they normally do. Once you've created an account on Love Lab you have a link to your page that can be updated from within the app in real time.
Then, when you want to check someone out, you can search for them by using their email address or phone number. Love Lab anonymously sends the person a message telling them that someone wants to see if they've been verified. However, the information available is completely at the discretion of the person being searched. They may have just their photo, first name, age or trust level; alternately, they may choose not to be searchable at all.
How to avoid getting catfished
Probably the most valuable use of Love Lab though is ensuring that you are safe instead of sorry. Demand that others prove themselves to you before going on a blind date. Do you really want to have to pry for all their personal information and then Google/Facebook stalk them? Do you want to have to give out your personal contact info, like your phone number or Instagram, in order to be confident that they are who they say they are?
By insisting that someone else is verified before you meet, you can be sure that you will never be surprised by who shows up for a date. To make it even easier to invite someone to verify, if you search for a phone number or email on Love Lab that is not already verified, the owner of that account will be anonymously asked to get verified for free.
How to trust and be trusted
You can also chat on the app if you find someone there or someone finds you. If you each approve of the other, not only can you text, but you can also take photos and videos using the camera in the app. Have a change of heart after sending those pics? Never fear. The photos and videos disappear after the receiver has looked at them once. And as an extra precaution, screenshots have been disabled where possible in the app.
While Love Lab doesn't pretend to cover all the bases, it does strive to protect your safety in the online dating world. When over half of online users admit to lying on their profiles, every bit of fact-checking is worthwhile.
Trust and be trusted.