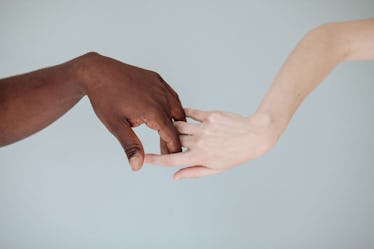 Here's What To Do If You Still Have Feelings For The One Who Got Away
Do you have that one ex that your thoughts always drift to when you daydream? Do you find yourself wincing when you look at their Instagram and see happy, colorful photos of them living their best life? If you've ever felt like you might still have feelings for the the one who got away, deciding what to do can be very difficult. Watching fictional characters dramatically reunite with their long-lost loves can be swoon-worthy and all on screen, but dealing with the feelings surrounding "the one who got away" is a lot harder to navigate IRL.
"If the one who got away is off living their best life and happy in a new relationship," Trina Leckie, breakup coach and host of the podcast breakup BOOST, tells Elite Daily. "that can cause a person to have more regret and literally wish they were the one happy with [their ex] now." Missing an ex can bring up a lot of unpleasant emotions. Leckie explains that seeing an ex as "the one who got away," can sometimes prevent you from unpacking those feelings fully.
Don't panic, because she's got your back. Check out the following things you can do if you've been feeling like Katy Perry circa 2010.