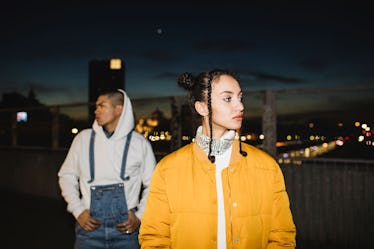 3 Signs Your Ex Thinks You're The One Who Got Away, According To A Therapist
If you enjoy romantic comedies or listen to music that puts you in your feels, you have probably heard the phrase "the one who got away." You don't have to be a Katy Perry stan to be familiar with the concept, and maybe you've even been called the one who got away. If you have, you're probably aware of how uncomfortable it can feel. To understand signs that your ex thinks you're the one who got away, I chatted with Trina Leckie, breakup coach and host of the podcast breakup BOOST.
When it comes to this complicated saying, context is super important. Leckie explains that at the most basic level, the phrase refers to an ex-partner that someone deeply regrets losing. She explains that seeing someone as the one who got away, "shows that the person isn't taking ownership or accountability for why the relationship didn't [initially] work." The attitude becomes even more problematic when your former partner continuously makes an effort to rekindle your relationship even when you've expressed you want to leave it behind.
If an ex isn't listening to what you want or if they aren't respecting your boundaries, it's totally within your right to be very clear about what you want with them. According to Leckie, the following red flags are signs that your ex sees you as the one who got away.