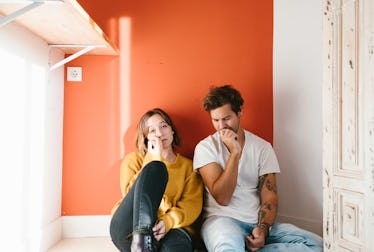 4 Signs You Need To Move Out & Away From Your Partner, Because Enough Is Enough
There's no doubt that living with your significant other can bring all kinds of facets of your relationship to light. And I'm not just talking about their quirky habit of accidentally leaving the water running, or their tendency to lose socks in the laundry. Cohabitating can also cause more serious issues to surface — issues that may suggest you need to cool things off for a bit. In fact, there are certain signs that you need to move away from your partner, either because they indicate that your relationship has become unhealthy, or because they suggest that you moved too fast.
"The sooner you recognize these signs, the better," says Dr. Gary Brown, dating and relationship therapist in Los Angeles.
By recognizing these red flags, you'll not only potentially save yourself from some emotional damage, but you could also save your relationship before these problems cause irreparable harm to your bond. While living with your significant other can be a wonderful way to progress your relationship, it's important that you're not forging ahead with this game-changing phase too hastily.
If you've been having doubts about your current living situation with bae, keep a lookout for these signs that it may be time to pack your bags.