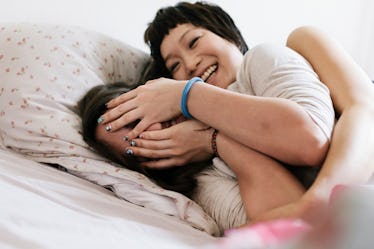 5 Tiny Things To Do To Make Moving In With Your Partner Way Less Stressful
If you're planning on moving in with your partner soon, here's a packing list of all the things you'll need: kitchen utensils, an HDMI cord (because don't you always need one of those?), an IKEA sectional, and literally all the tips for moving in together you can internalize before then. Trust me, that last one is really important.
In my experience, living together can make or break a relationship. In fact, it can even make or break a person. After my last relationship ended badly, I had the awkward task of helping my partner move out of my apartment. Except he wasn't there to help. He'd disappeared and left me to coordinate pickup times and locations for all of his stuff with his mom, who was less than happy to see me. Obviously.
To say this was the most miserable weekend of my life would be a colossal understatement and maybe even a lie. I had to relive the trauma of that weekend for the next few weeks every time she sent me a text message asking if I'd packed some very specific item or vaguely implying that I had stolen something. Sure, because a cordless leaf blower is what I really needed in my life at that point. Makes sense.
If I could go back in time and undo one thing in my life, it would be moving in with my partner before we were ready but most regrets are really just lessons learned. You and your partner can have better luck than I did if you follow these five tips from Trina Leckie, relationship coach and host of breakup BOOST Podcast.