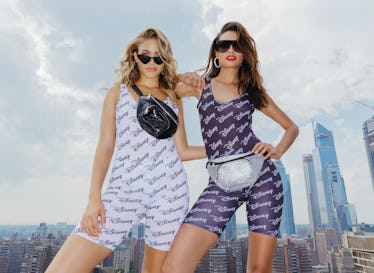 The Disney x Boohoo Clothing Line Turns Your Childhood Faves Into Instagram Gold
Courtesy of Boohoo
Disney-themed merch is a timeless classic, but often it skews more towards the Mickey Mouse ears and t-shirts of your childhood. Disney x Boohoo's new collaboration, however, is something a little different. This collection is streetwear-inspired and über-trendy, so you don't have to worry about accidentally twinning with your younger siblings.
Disney has had some other exciting collaborations lately – the Vans Mickey Mouse collection looks arsty AF, Sugarfina's Mickey Mouse gummies were delish, and the Disney x TOMS shoes took me back to some of the original Disney animation drawings. Most of these partnerships were a nice stroll down memory lane but sometimes a classic character like Mickey Mouse needs a fashion refresh, and that's exactly where Boohoo comes in.
You know Boohoo, it's the brand that brought back Paris Hilton's style with an homage to early '00s fashion. They're going one step further back now with a Disney collaboration that's reminiscent of your late '90s trips to the promised land of Disney World – sort of. The merch is very on brand with Boohoo, which is to say that it's got more of a contemporary flare to it than a retro tourist vibe. Basically, imagine Minnie Mouse as a 2018 street style fashion influencer and don't you already want to buy it all?
Mickey Slogan Square Neck Crop Top & Mickey Logo Cycling Shorts
A sports bra-inspired Mickey Mouse crop top is the most 2018 thing ever.
Actually, that top paired with matching cycling shorts is the most 2018 thing ever.
Disney Repeat Graphic Bodysuit & Cycling Shorts
I'm so tempted to try out this bodysuit as a bathing suit.
The bodysuit worn with the matching cycling shorts is pretty d*mn cute too, though.
Mickey Repeat Graphic Bandeau Top & Mickey Graphic Mom Jeans
Mom jeans and a crop top FTW. Add the Coin Chain Statement Belt ($12; boohoo.com) to complete your look.
Mickey Repeat Graphic Bodycon Midi Dress
I say add a fanny pack to this look for the full Disney effect – try this Quilted Belt Bag in red ($12; boohoo.com).
Minnie Script Crew Neck Sweater
Minnie makes a cameo in this collaboration, too! This vibrant red sweatshirt is one of the more colorful items available, so scoop it up quickly if that's your favorite style!
Minnie Side Script Joggers
I'm going to thank my lucky stars that joggers are still in style because they're so unbelievably comfortable, I don't know what I'd do without them.
Disney Love Hands Crop Top
Indulge yourself in one last crop top before the end of summer – you know you want to.
Mickey Repeat Graphic Unitard
This unitard legit looks so comfortable I might end up just wearing it around my apartment as some new loungewear.
Minnie Graphic Cropped Hoodie
Olive green is an underrated color, IMHO.
Mickey Oversized Graphic T-Shirt
If a more traditional Disney look is what you're after, they've got that too. Check out the rest of the collection online at Boohoo to find your favorite styles!