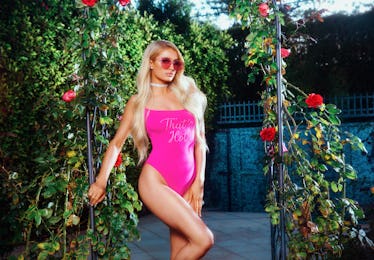 A Paris Hilton x Boohoo Clothing Line Is Coming & It's All Under $100, So Get Ready To Loves It
Boohoo
It feels like just yesterday when I'd come home from high school, slip into my favorite pink tracksuit, step into a pair of Ugg boots, and turn on rerun episodes of The Simple Life. I literally can't think of a better way to spend an afternoon, but since I have a career and bills (and I can't find old episodes streaming on any of my subscription services), those days are far behind me. Thankfully though, there's a Paris Hilton x Boohoo clothing line coming soon and it's giving me all the early 2000's vibes I've been craving all along.
I was in Catholic high school when Hilton and Nicole Richie endured hard labor on The Simple Life, but they were both my fashion muses for accessories and weekend outfits. I begged my older brother to drive me to Melrose Avenue in West Hollywood so I could buy a Von Dutch hat I saved up for. It was a pink and white checkered velour trucker hat, with the signature patch on the front. I wore it everywhere, even with my school uniform. As Hilton and Richie's styles evolved, so did mine. By 2006, I was wearing a scarf as a headband, giant sunglasses, and a knockoff Louis Vuitton speedy bag.
By the time I graduated high school and finally ditched the uniform forever, I took with me the lessons I learned from watching the show. While I couldn't afford the clothes Hilton and Richie wore, I learned the power of accessories and developed a love for prints and asymmetrical hemlines. However, luckily for me (and my passion for early 2000's fashion), Paris Hilton's new collaboration with affordable online retailer Boohoo means I channel my inner socialite without spending a fortune or settling for knockoffs.
The Simple Life veteran co-designed a 70-piece collection (yup, 70 pieces!), including everything from flowy maxis, to party-girl staples, and swimwear inspired by her favorite trends and fashion moments of the new millennium, including animal prints, slinky metallics, palm prints paying homage to Beverly Hills, all pink everything, and cheeky slogan pieces that boast her famous mottos like "That's hot".
I'm screaming right now.
The best part is that everything will cost under $100, and the collection will include pieces starting at $15. Here are some of my favorites:
I mean, tell me this isn't your early 2000's dream come true: A metallic club-rat bandana top paired with pink tracksuit pants and a bedazzled choker to boot. Even her blinged-out sunnies remind me of the phone case I had on my Nextel on grad night.
And it wouldn't be a Paris Hilton line without a chihuahua cameo. Her rhinestone-choker-wearing dog named, Diamond Baby had a cutoff hoodie designed after her. Fun fact: I carried my chihuahua in my purse back in the day, too.
Just think of all the "that's hot" captions you'll have to accompany all the selfies you'll take in this hot-pink one piece.
There's no way Paris was about to collaborate on a clothing line and not bring the leopard print. I'm not entirely sure whether or not the tiara is part of the collection, but it just doesn't see, appropriate to wear the dress without the sparkly headpiece, amirite?
And as if a metallic mini dress wasn't enough to get the party started, this asymmetrical number also boasts the iconic Beverly-Hills palm print to make your inner heiress.
No word on whether or not trucker hats, scarves as headbands or oversized sunglasses will be made available, but maybe they're best left in my childhood closet at my parents house. The Boohoo x Paris Hilton collection will be available globally beginning June 20 on on Boohoo's website, but I can already feel my early 2000's slang coming back.
Loves it.