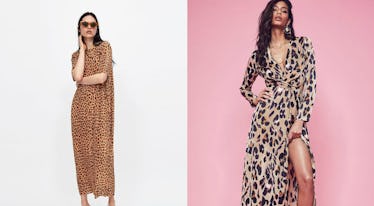 Leopard Print Dresses Are Officially Trending For Summer & They're A Total '90s Throwback
Zara/Missguided
I'm not big on wearing animal prints. Faux snakeskin will sometimes make its way into my accessories repertoire but beyond that, only one fauna-inspired pattern ever catches my eye—and only in dress form. My search for the perfect leopard print dress for summer officially kicked off today after seeing Kylie Jenner rock one such amazing piece and in light of the fact that so, so many amazing styles are out there to choose from, I decided to share the sartorial wealth with a roundup of the best ones, below. Meow!
When I first kicked off my career in fashion (I was working insane hours in a fashion closet, picking up samples from all over Manhattan and packing trunks for set—GLAM!)I remember buying the coolest vintage leopard dress. It featured a dropped back, spaghetti straps, and high neckline, and hit just below my knees. I wore the heck out of that dress, styling it with a white tee underneath, a black hoodie over the top, and everything from sneakers to stilettos on my feet. It was my go-to dress for interviews, formal events, and beyond, and taught me the true powers of leopard print in terms of being able to act as a neutral. Like denim, it can somehow be paired with anything and look cool. Don't believe me? Peep this article about how to wear leopard print and you'll see that there are literally no rules when it comes to styling the trend.
Thanks to the print's sartorial malleability, I think a leopard dress is a must-have staple in any fashion girl's closet. Plus, it's an iconic 90s throwback—reason enough to own one! Ahead, some of the best options to choose from right now.
Slit Decision
If you've got a semi-formal event coming up, opt for this glossy leopard dress featuring a thigh-high slit and cool crossover neckline. I'd style it like above—with strappy heels and gold earrings—for an especially '90s look.
Take the Floor
Flowy maxi dresses with a boho flare make such a statement. This one boasts a twisted waist design, slit, and deep V neckline.
Keep it Casual
Or don't! This dress is a total fashion chameleon. Wear it with flats and minimal accessories for an easy weekend look or dress it up with some sky high heels and a red lip for a fancy night out. I love its wide, structured sleeves and fitted waist—architectural fashion at its finest.
Flutter On
Talk about a dress that's meant for moving in! Thanks to its subtle shoulder ruffles and high-low hemline, this style looks amazing when in motion.
Slip In
This is my favorite silhouette for a leopard dress, mostly because it doubles down on the '90s trend. Wear it with a white tee underneath for a day at the office or as-is with heeled patent black booties for an elevated grunge look.
Tee Time
There's nothing more comfy or versatile than a simple tee shirt dress. This one boasts a cute ruffled hemline for a bit of feminine flair. Clearly it looks ace when paired with Vans sneakers.
Feeline Frisky
The neckline and sleeves of this dress make a major statement on their own, but when paired with leopard? The dress is a total knockout. Very Brigitte-inspired, indeed.
Go With the Flow
Tell me this look isn't downtown New York at its finest. From the hat and booties to the bold-printed midi dress, it's everything laidback cool should be.
The Simple Things
With a classic silhouette that's been upgraded via ruffles, this dress is as easy as it is cute.
Cat Lady
The shape of this dress reminds me of pieces my grandma used to wear around the house on the regular for their comfort and ease—I love it. Cut from a bold leopard print, the dress is mindlessly chic.