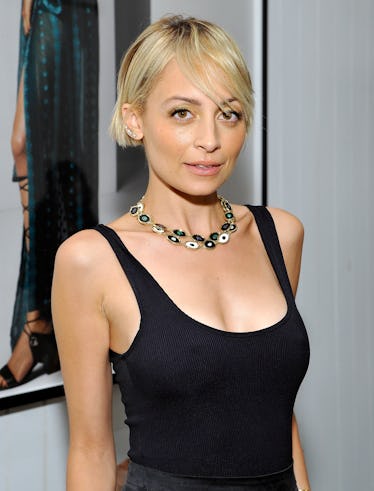 Nicole Richie Talks Her First Music Festival — & How To Dress For Yours — EXCLUSIVE
John Sciulli/Getty Images Entertainment/Getty Images
When you get the chance to speak to an entertainment and style icon and learn a few of her fashion and beauty hacks, you absolutely take it. And when said hacks end up applying particularly well to Coachella-esque settings, you pay close attention. Nicole Richie's festival style trends for 2018 are all about sun-kissed simplicity and I, for one, can't wait to try them out.
As you surely know, Richie is the brains behind Los Angeles-based accessories and fashion line House of Harlow 1960. Her designs are decidedly boho inspired with a sleek, polished finish and fit perfectly into that Cali cool girl aesthetic. In other words, her designs are also perfect for music festivals, so I consider her somewhat of an expert on festival style. And seeing as she's a Coachella veteran herself, her cred is doubled. "At my first festival, there was no social media so it didn't matter [what you looked like]," she reveals. "When Coachella first started, I was a 19-year-old animal running around and being psycho. I had a great time." Basically, Richie's first festival experience was not so different from yours.
It makes sense, then, that Richie would team up with a major beauty brand on a line of festival-perfect products. The Urban Decay x House of Harlow 1960 collection, which launched earlier this year, offers just that. "I wanted [to create] a bag with seven essential products that are exactly what you need to accentuate what you have," she explained. "We are beautiful, I'm not on board with changing your look completely. I'm also not great with makeup myself, so I said let's choose makeup that will make you feel uplifted and excited."
The seven piece collection, which is available exclusively through Revolve and includes everything from a setting spray to lipstick, can be shopped in full on Revolve's website, but its shimmery gold eyeliner and silver glitter eyeliner deserve a call out of their own, seeing as they perfectly encapsulate festival beauty. "The glitter eyeliner comes on in a soft line, it's all about clean and soft," says Richie. "I like adding Goldmine, the gold liner, underneath my eye for a little pop."
When it comes to her makeup, Richie is all about subtlety, whether she's rocking out in front of a stage or going about her day-to-day tasks as a mom. "I love playing with different looks but I love a less-is-more approach. Gold colors, mascara, and lip tint. It's all about sun-kissed vibes," she notes. "My beauty idol is my mom — I grew up in the '80s and she went every night with my dad. I'd watch her get her makeup done, and what stood out to me most was seeing my mom with drawers full of MAC makeup. She was so glamorous!"
As far as what she wears clothing-wise to festivals? "I love music festivals and being outside in an open space and letting the music hit me emotionally. For me, it's less about my look or an accessory, I want to feel free and dance and eat and do it all. I wear bodysuits, jean shorts, and jean skirts — there are no bells and whistles. It's important to be comfortable."
I can relate to that! As much as I wish I was one of those festival-goers whose outfit could be featured within the pages of Vogue, a bralette and shorts tend to constitute 90 percent of my looks. But as Richie advises on personal style development, "It's a process, and it's OK to allow yourself the time to figure out who you are. Really go with what you feel elevates you," she says.
Like her, comfy clothes that I can move in definitely elevate my festival experience, so I'm going to run with that look.
Nice to know it comes style-icon approved.