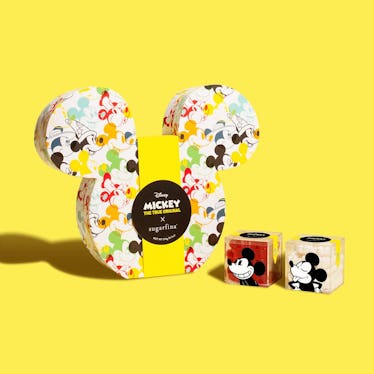 This Disney Mickey The True Original x Sugarfina Collection Is Truly Candy Heaven
Sugarfina
When you were a small child, chances are your after-school routine involved grabbing a yummy snack from the kitchen and plopping down in front of your television, ready to watch your favorite show. IDK about you, but I always tended to gravitate toward shows that featured Mickey Mouse, whether it was The Mickey Mouse Club or Disney's House of Mouse. Those were truly the good ol' days. Now as an adult, I've traded in my days of binge watching kiddie shows for a 9 to 5, but there's a new collection out that's making it possible for me to hold on to a bit of that childhood nostalgia. Sugarfina's Mickey Mouse collection is here, and I'm already feeling like I've transported back to the simpler days.
Luxury candy boutique Sugarfina launched its latest collection — the Disney Mickey Mouse 90th Anniversary Collection — in collaboration with Disney on Tuesday, Aug. 21. According to Sugarfina, the collection features a line of Candy Bento Boxes, Candy Cubes, and chocolate bars in celebration of the global icon. It's the latest effort of Disney's Mickey The True Original campaign, a global celebration Disney announced earlier this year to honor the famous cartoon character, his 90-year heritage, and his profound impact on pop culture.
There are three special-edition candies to honor Mickey Mouse's unmatched style: strawberry-flavored Mickey Ears gummies (because of course), birthday cake-flavored Mickey Mouse Gloves gummies "for an anniversary gift that fits like a glove," and berry-flavored Mickey Buttons candies dressed in the character's signature colors. To top it all off, the candies come wrapped in Sugarfina's signature Lucite Candy Cubes, and embellished with Mickey Mouse artwork that highlights his playful personality.
Shoppers have the option of purchasing the snacks individually for $8 each, or you can buy all three if you grab the 3-piece Bento Box, which comes in a pop-up diorama box that's shaped like a vintage television set, and features super cool original illustrated scenes for $39. It's the perfect gift for true Mickey fans to keep around as a collector's item long after the candies are gone.
If you're not a gummy candy person, don't fret, because they've got something for you, too: three yummy chocolate bars, made with decadent Parisian chocolate and peppered with Mickey-shaped sprinkles for just $9.95 each. You can get them in dark chocolate, milk chocolate, and white chocolate, so you'll have tons of options when you are actually able to lay back and binge watch some classic 'toons. (I think I'll have two of each, please and thank you.)
Speaking about the inspiration behind the collection, Sugarfina co-founder and co-CEO Rosie O'Neill says in a press release to Elite Daily,
One of my favorite childhood memories was meeting Mickey Mouse at Disneyland, and I've carried that love of Mickey with me as I grew up. We were inspired to create a playful line of Sugarfina candies for the grown-up Mickey Mouse fan, with delicious treats that can be enjoyed today with beautiful packaging that will be cherished for years to come.
Glad they know us adult Mickey fans exist.
If you're all set to check out, you can head over to the Sugarfina website or any local shop to grab your treats as of Aug. 21. The first 25 people in line at Sugarfina boutiques on Aug. 22 will even receive a complimentary Disney Mickey The True Original x Sugarfina Candy Cube of their choice, so you might want to go ahead and set yourself a reminder. But don't forget: the collection is only a limited-time deal, so you might wanna consider getting yours sooner rather than later!
As for me? I'm already on the check-out screen. Cheers!