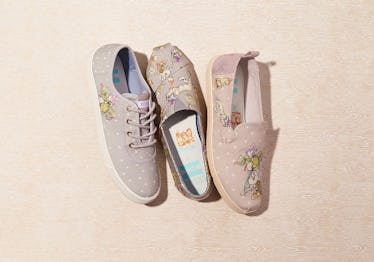 TOMS Just Dropped A Snow White-Inspired Collection That Will Be The Apple Of Your Eye
If your favorite childhood movie involved a poisonous apple, seven dwarfs, and an incredibly terrifying evil queen, then the Disney x TOMS Snow White collection needs to be on your fall shopping list. It's the third installment of the socially conscious footwear brand's partnership with Disney in which they collaborate on a different capsule collection of kicks inspired by an iconic princess, and it's so, so magical.
Earlier this year, TOMS and Disney released a collection of footwear centering on Cinderella and her adorable animal friends. The sophomore release starred Sleeping Beauty and her three fluttery fairy godmothers. Now it's Snow White's turn to shine, with some help from Bashful, Doc, Dopey, Grumpy, Happy, Sleepy, and Sneezy. Yes, they're as cute as you're imagining!
As is true for all of the TOMS x Disney releases, the Snow White collection features "exclusive, never before seen artwork created by the all-female Ink and Paint department of Disney in the mid-1900s," according to a press release."They worked tirelessly behind the scenes hand-drawing and inking the individual images that were transformed into the classic Disney movies near and dear to every child's (or adult child's) heart."
How cool is that? In shopping the collection you're not only supporting TOMS' charitable buy one, give one model, but you're also honoring women whose hugely impactful work for Disney has gone largely unacknowledged until now. "TOMS and Disney come together to celebrate those memories and the women who helped create them with their collection," says the press release. "The collection encouraged and empowers women and girls to pursue their dreams."
Now, for the good stuff.
There are four women's styles available in the collection and they each boast their own unique twist.
The first style is the classic TOMS silhouette emblazoned with Snow White's seven personality-rich friends. The main hue of the shoe is a dusty lilac, with Bashful, Doc, Dopey, Grumpy, Happy, Sleepy, and Sneezy adding a bit of muted pastel punch.
Next up is another version classic TOMS shoe, this time featuring the leading lady, Snow White herself. The base of the shoe is a lighter navy and Snow White appears in muted yellow tones, with her signature red headband shining through. Tiny light blue stars dot the entire style and give it an added touch of magic.
The third style resembles a Vans slip-on in silhouette and features a wonderfully glittery heel detail. The base of the shoe is once again a dusty lilac and it's once again emblazoned with the seven dwarfs, but this time in more spread out and easily visible fashion.
Finally, we've got the sneaker version of the above slip-on, except Dopey is the star of the shoe. He appears on both sides of the style in all of his happy and silly glory.
The entire collection is now available online at TOMS' website, with prices ranging from $64.95 - $75 for women's styles. If you've got a little sibling or niece or nephew that wants to get in on the fun, children's styles are also available and range between $49 – $59.