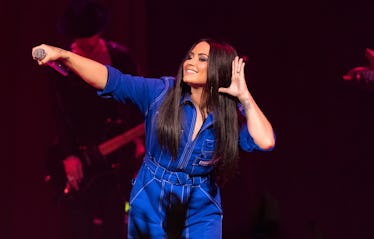 Demi Lovato Reveals How She Makes The First Move In A Relationship & It's So Badass
Christopher Polk/Getty Images Entertainment/Getty Images
Hi. Hello. It's me. Your average, typical, everyday Demi Lovato fangirl. I admit, I was slow to pick up how truly special she is, but after her YouTube documentary, Simply Complicated, came out in 2017, I have been paying the F attention. Lovato is only 25 years old, but when you hear her speak about her life story, you kind of get the sense she's lived a million years. After a super long and serious relationship spanning the course of six years, she is single and legit ready to mingle. In fact, Demi Lovato slides into Instagram DMs time to time, and I love that news so much.
Lovato famously dated That '70s Show star Wilmer Valderrama for six years before they called it off in 2016. Fans were devastated. The two connected when Lovato was barely 18 years old, and dated throughout her journey into sobriety. Having deeply struggled with pills, drugs, and alcohol throughout her teenage years, Lovato is now six years sober. She's also more secure, confident, and badass than ever.
In Simply Complicated, Lovato let fans in on her battle with addiction and her unhealthy relationship with food. Today, Lovato uses exercise and meditation to keep her body and mind clear and healthy. She also has a wide-open heart for love and relationships.
Bottom line, she's seriously killing it.
In a recent interview with InStyle magazine, Lovato talked about her journey to self-acceptance and her attitude toward dating. She also touched on her sexuality, and fans now know she's open to both men and women, thanks to her documentary.
Lovato explained to InStyle,
I'm not suffering because I'm alone. There were many years I was in a relationship and I wasn't learning about myself. Now I'm learning about what I like, what I need, and what I want.
Like most of us, she is looking for someone who treats her like a queen and is comfortable with her taking the reigns. She explained when it comes to dating, she's usually the first person to make a move and she isn't afraid to slide into a strangers DMs. Lovato said,
I'm normally the first one to make the move. I'm always the one who says, 'Let me get your number.' Or I slide into their DMs on Instagram.
I die. I love.
After her relationship ended with Valderrama, she was briefly linked to MMA fighter, Guilherme "Bomba" Vasconcelos. It made sense at the time, especially because duking it out in the ring is one of Lovato's passions as well. She admitted it can be difficult to watch someone you care about literally fight, but explained, "there's something attractive about being so driven and risking it all for something you love."
As for her approach to fighting (arguing) in a relationship, Lovato says she considers herself a "discusser," insisting "life's too short for drama."
It's understandable Lovato is looking to limit drama in her life, especially given her position as a celebrity and mental health advocate. She explained,
You have to speak out about stuff. You have to use your voice for good. That's what I think a lot of people are starting to do. I didn't have anybody who was doing that when I was younger. I grew up in the era of really, really skinny celebrities. That was the look. And it was cool to be seen partying. Drugs were glamorized, and when I was 12 or 13, nobody [I looked up to] was talking about mental illness. Nobody was talking about eating disorders. Nobody was talking about cutting. I wanted somebody for my little sister to look up to. I took on that role because I knew it was important.
Honestly, Demi? You can slide into my DMs literally any freaking time you want. You're my Queen, girl.
Check out the entire Gen Why series and other videos on Facebook and the Bustle app across Apple TV, Roku, and Amazon Fire TV.