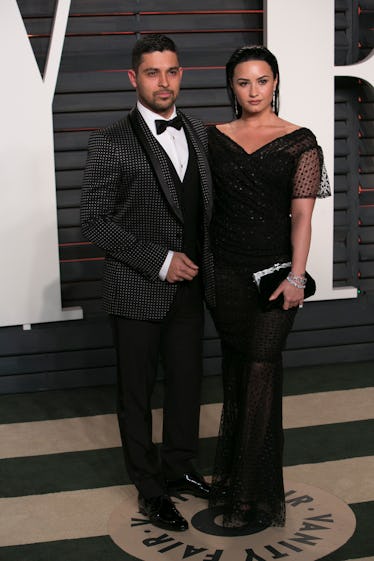 Fans Want Demi Lovato & Wilmer Valderrama To Get Back Together After 'Simply Complicated'
ADRIAN SANCHEZ-GONZALEZ/AFP/Getty Images
In Demi Lovato's new documentary, Simply Complicated, the singer gets super real about so many areas of her life. Lovato's confession that she still loves Wilmer Valderrama really stuck with me, however. Turns out, I wasn't the only one moved to tears by the fact that the couple parted ways and she feels so much love for him. Will Demi Lovato and Wilmer Valderrama get back together?
The footage where she hangs out with him after she admits that she loves him really got to me. Look at her body language and the way she looks at him. It's beyond obvious that she's not over him and from the way she spoke, she may never really move on.
Lovato devotes a good chunk of her documentary to talking about Valderrama, explaining their history together and stating, "I've never loved anybody like I loved Wilmer and like, I still love him." She explained how they met, saying, "I think it was love at first sight, and I don't really believe in that, but I believe that it happened."
They really shared something special, as she explained: "We connected on a level that I've never connected with anybody before. He was just my rock. My everything."
Their decision to break up couldn't have been an easy one, with Lovato noting: "That was one of the reasons why we broke up because I've never been alone. It had nothing to do with falling out of love. We decided together that we're probably just better as friends."
She added, "I do have moments where it's late at night and I'm lonely and I wonder if I made the right decision, because love is a gamble. I don't know if I'll lose him for the rest of my life."
Oh my god, this is so heartbreaking.
At the party with Valderrama, Lovato looks smitten with the actor as they interact and laugh like a couple that truly knows each other and has a deep connection.
Lovato explained:
I think my heart is always with Wilmer. I think it was with Wilmer. I think that it is with Wilmer, and I think that it will be... You don't share six years with somebody and not give them a piece of your heart, and visa versa. Like, I'm pretty sure that I'm not going to meet anybody that compares to him, but I'm trying to keep an open heart and open mind when it comes to that.
Wow. Just wow. It's wonderful that they still have a closeness as friends, but it's obviously not easy for Lovato to have moved on.
Part of moving on, she explained, is working through feelings of loneliness and diving back into dating:
The sparks never faded but there are issues that I haven't conquered yet that I know I won't conquer if I'm relying on somebody else to take care of the loneliness. I just wasn't ready and there was so much in my life that I hadn't explored yet.
Will Lovato and Valderrama ever get back together? In a recent interview with ET, Lovato explained why she's single right now, noting: "I value my time by myself now, and I value my time with my friends. And I just have learned to really appreciate my me time and getting to know myself and learning to fall in love with myself before I fall in love with anyone else."
As for a possible reconciliation with Valderrama, Lovato did give this glimmer of hope, saying, "You never know what's going to happen. I don't know what's going to happen."
Naturally, after seeing Lovato confess her love for the actor in Simply Complicated, her fans are hoping the two find their way back into each other's lives romantically again.
One fan summed it up perfectly, tweeting: "I want Wilmer and Demi to get married and have beautiful kids lmao."
Another fan really nailed it: "demi and wilmer really are soulmates no offense."
Yet another fan noted: "Demi lovato is still in love with Wilmer and that makes my heart ache lol he was good for her."
Sob. This:
Feels.
How about some predictions?
It definitely would be amazing to see them back together at some point, but you have to respect the decision for Lovato to want to grow on her own right now. Hey, time apart worked for Miley Cyrus and Liam Hemsworth, so who knows?
Check out the entire Gen Why series and other videos on Facebook and the Bustle app across Apple TV, Roku, and Amazon Fire TV.