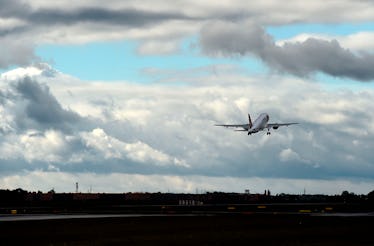 This Airline Is Giving Out Free Prosecco, So Book Your Tickets Now
MICHAL CIZEK/AFP/Getty Images
Ah, traveling. What's better than exploring new places, experiencing different cultures... and celebrating with a bit of bubbly on the way there? Delta serves free Prosecco on flights, so if you needed that extra incentive to book a vacation, look no further than the airline's latest perk.
According to reps from Delta, there's good reason for serving a glass while passengers get ready for takeoff. "Sparkling wine is often the first choice for a celebration, and we know how special it is for people to jet off on a trip, so we wanted to bring the celebration to them," Lisa Bauer, Delta's vice president of on-board services, said, according to Delish. There's honestly no arguing with that kind of mentality. Although Delta served complimentary beers and white and red wine while traveling internationally, only recently has Avissi Prosecco been added to the list, and rightfully so.
Not only is Prosecco delicious, but the celebratory drink is making a splash this year, quickly following rosé and fall pumpkin spice mixed drinks on its way to superstardom. There seems to be no stopping the drink and its many fizzy-infused treats.
Let's break down some of our favorite odes to the lovely Prosecco.
First thing's first, Prosecco is a go-to for big occasions... or just an order of fast food.
Yes, you read that correctly: fast food. Shake Shack paid homage to everyone's favorite drink, as well as the return of everyone's favorite TV characters: none other than Jack McFarland and Karen Walker. In celebration of Will & Grace's new season, Shake Shack honored the show's two outrageous characters with a shake — a boozy shake (let's face it, Karen Walker wouldn't have it any other way).
According to a press release obtained by Elite Daily, the Prosecco-spiked milkshake, coined the Jack & Karen Shake (created in collaboration with NBC), features a blend of sparkling wine and strawberry frozen custard. To round it all off, Shake Shack topped the boozy dessert with whipped cream, rainbow dust, strawberry sprinkles, and honey. Though it was only available until Oct. 5, you now have the ingredients to make a copycat recipe of your own while you watch the latest episode of Will & Grace.
Prosecco also inspires some of the trendiest beauty routines out there.
If you're getting tired of all things pumpkin spice (the deodorant, the ombré PSL hair), it's time to take your beauty routine back to your favorite drink. Prosecco nail polish is not only stylish — it's edible. Groupon created the tasty "Prosecco Polish" to celebrate Mother's Day, and I have a feeling people are going to want to celebrate their mothers, grandmothers, and aunts all year long after discovering this type of mani.
And we all know Prosecco goes well with carbs... and anything fried.
Prosecco Doughnuts from The Doughnut Project and Ruffino Wines have graciously gifted hungry customers with a boozy item, and you better believe the hype. The Prosecco Doughnut was featured in honor of National Prosecco Day on Aug. 13, so that's definitely something you want to mark on your 2018 calendar. You can find copycat recipes in the meantime to hold you over until next summer.
If you're not traveling, there are plenty of ways to enjoy a glass of bubbly. If you're fortunate enough to take a trip across the pond with Delta, definitely celebrate your adventure with some complimentary Prosecco. Whether you're headed to check out beautiful fall foliage, celebrate Oktoberfest, or on a quest for the most haunted attractions around, a little fizz on your flight seems like the perfect way to kick off a trip. Cheers!
Check out the entire Gen Why series and other videos on Facebook and the Bustle app across Apple TV, Roku, and Amazon Fire TV.