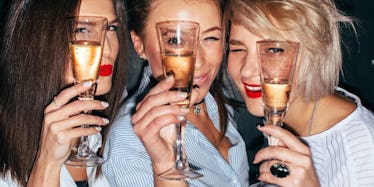 Prosecco-Flavored Nail Polish Exists, So Manicures Are The New Classy Pregame
Viktor Solomin
There are two main ingredients for an epic girls' night: glittery nail polish and sparkling wine.
The two go hand-in-hand. I mean, a party isn't a party unless your nails are done and your glass is full.
A genius company finally realized what a perfect match nail polish and sparkling wine are, so they decided to combine the two for the ultimate booze-flavored nail varnish.
Yup. Prosecco-flavored nail polish is coming, so call your best girlfriends and get your nails ready for a wine-down.
Groupon created the tasty "Prosecco Polish" to celebrate Mother's Day, and I have a feeling there are going to be a lot of boozy manicures happening come May 14.
The edible polish is made with real prosecco and tastes like prosecco when you lick it.
Apparently, it even smells like the sparkling wine, too. YUM.
Can you imagine craving a tall glass of wine and being able to taste your nails for a quick fix? I'm praying a red wine-tasting polish comes out soon.
Plus, it has zero calories, which means you can lick your nails without regret. Lick away, my friends! Indulge in your prosecco-nails!
The "Prosecco Polish" is sparkly with a golden hue to match the glass of prosecco in your hand.
Although the varnish smells and tastes like the real deal, and it's billed as the world's first edible nail polish, make sure you DO NOT drink it. It still has ingredients that aren't meant to be gulped like a glass of wine (I mean, it's still nail polish... remember that).
I know you're probably wondering whether or not licking the nail polish will get you buzzed, and sadly, it won't.
Still, having nails that taste and smell like a sweet glass of white wine is enough to have me hooked on a bottle or two.
If you're craving boozy-tasting nails, too, you can enter to win a free bottle here.
Citations: Prosecco flavoured nail varnish is coming (Metro)