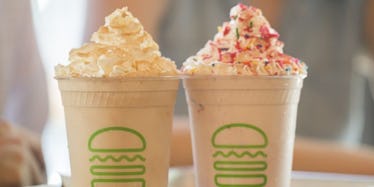 Shake Shack's New Boozy Milkshakes Are Made With Prosecco And We Need Them
Shake Shack
Shake Shack's juicy burgers, crispy fries, and regular milkshakes are American staples. But the fast casual chain started by restauranteur Danny Meyer is adding something extra to its shake menu in honor of NBC's Will & Grace revival: booze. But there's a catch! Shake Shack's boozy milkshakes will be available for a very limited time (as in literally two weeks from Sept. 18 to Oct. 1).
According to a press release obtained by Elite Daily, the prosecco-spiked milkshake (created in collaboration with NBC ) features a blend of sparkling wine and strawberry frozen custard. It's called the Jack & Karen Shake, and — in a fun twist the fictional TV characters played by Sean Hayes and Megan Mullally would totally approve of — it's topped with whipped cream, rainbow dust, and strawberry sprinkles, honey.
In addition to your new favorite alcoholic drink (a creamy cocktail, if you will), the burger joint is also releasing a virgin shake called the Will & Grace Shake. You can't celebrate a newly-revived TV show without spotlighting its main characters in milkshake form, after all!
The Will & Grace Shake is more of a decadent dessert. Seemingly inspired by a campfire classic (s'mores!), the shake is reportedly a blend of marshmallow frozen custard and Shack fudge topped with whipped cream and cinnamon sugar. NOM. This one sounds so good I'm willing to bet you won't even miss the bubbly.
As I sit here, bracing myself for an impending 14 days of excessive dairy consumption with zero regrets, it's time for me to deliver some sort of sad news: Shake Shack is only offering their Will & Grace-themed milkshakes at four of its U.S. locations: two in New York (Herald Square and Upper West Side) and two in Los Angeles (Hollywood and West Hollywood). If you happen to stop by the UWS location, know this: It's only a few blocks away from Will and Grace's apartment!
Each shake will cost you $5.99, and in a fabulously charitable move, Shake Shack is donating a portion of the profits from each sale. They announced in their press release,
For every shake sold, Shake Shack and NBC will donate $2 to GLAAD, the world's largest LGBTQ media advocacy organization, and support its efforts to share culture-changing LGBTQ stories.
Such a fabulous excuse to drink all the milkshakes, am I right?
Will & Grace premiers right in the middle of the milkshake mayhem on Sept. 28. The popular show revival has already been picked up for a second season (I mean how could NBC not?) for a total of 29 episodes total — 16 in the first and 13 in the second. Do yourself a favor and set your DVR to record every single episode, then add daily reminders from Sept. 18 to Oct. 1 to treat yo self at Shake Shack.
By the end of the two week span, when we're forced to bid the Will & Grace Shake and the Jack & Karen Shake adieu, we'll have to rely on a different milkshake recipe. Thankfully, the original Milkshake Queen, Kelis, recently debuted her own spicy take on the drinkable dessert in partnership with Bailey's. And yes, it's better than yours.
Per the YouTube video posted to Bailey's account (embedded above), Kelis makes them by blending chocolate ice cream, ginger beer, Bailey's, candied ginger, and cayenne pepper together in a blender. She then serves the sweet-yet-spicy creation in a honey-lined glass with a chili cinnamon rim before topping the whole thing off with ginger-infused whipped cream and a candied ginger slice. While those flavors aren't for everyone, Kelis' milkshake recipe is fiery just like her hit 2003 track, "Milkshake."
Is it just me, or do need to re-work the food pyramid to include a section dedicated to boozy milkshakes?